Post
Synthetic Corpo-Reality, a virtual exhibition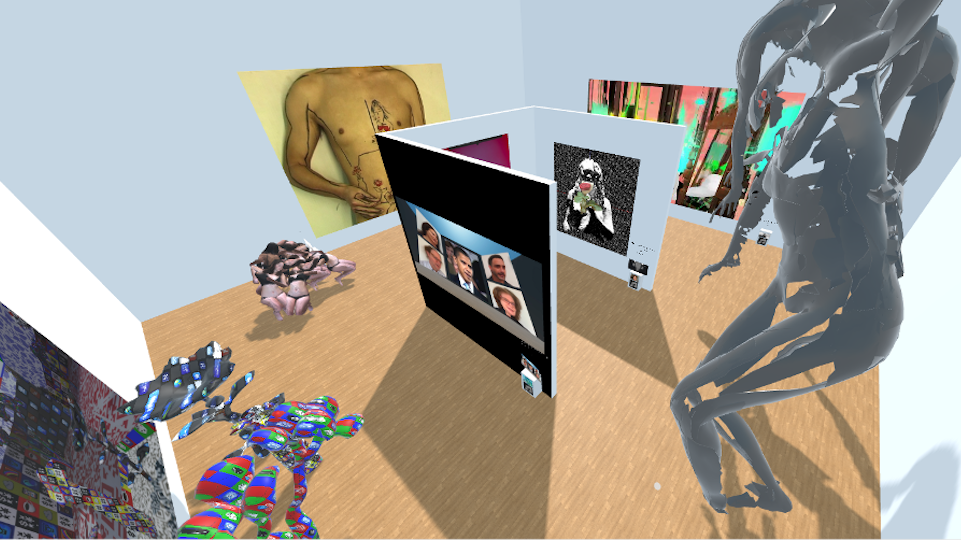 Synthetic Corpo-Reality
an exhibition curated by Julie Walsh
Throughout the canon of art history artists have used the body as a canvas to explore political, social, and cultural ideology. The title of the exhibition Synthetic Corpo-Reality is inspired by the extended artwork of Martina Menegon who explores issues of the contemporary self alongside its synthetic corpo-reality. This exhibition examines the work by international artists who have chosen the body as a vessel for the realization of their artistic goals. There is a new more encompassing definition of "sculpture art" in the digital age or post-digital age. Artists using computers to create images of the body do so in a variety of digital mediums including photography, video, multi channel animations, 3D printer scans, sketch-fab, GIFs, AI softwares, augmented reality, 360 experiences and virtual reality.
Synthetic Corpo-Reality showcases the increasingly diverse ways of representing what we take for granted the very depiction of our bodies by using a range of technical innovations whether a more historical stop motion approach like in Zhou Xiaohu's The Gooey Gentleman (2002) to the artists using AI to recreate our faces, and emotions in a deepfake like Tamiko Thiel and partners.
Certainly artists like Claudia Hart who merges effortlessly historical representational systems simultaneously: animation and the "post-cinematic virtual" are and have been pioneers in representing hybrid forms of cyborg choreography and animate architectures that respond to dance and music in virtual spaces. In fact there are new ways of bodily construction both in physical and virtual spaces. This is exemplified by artist Sophie Kahn who creates sculptures by using a 3D scanner of a 3D printer on models. The scanner only creates images of individual body parts so after these are created in digital files and prints, Ms. Kahn then painstakingly reassembles them into a body again in a physical form.These sculptures can then be put onto pedestals for an in person exhibition or digitally manipulated and displayed in virtual spaces where gravity is no longer an issue.
As a result of the Covid19 pandemic people are more focused on their bodies and the digital representation of how they are seen. IRL (in real life) conversations have been replaced by Zoom calls and social media posts. In fact the pandemic has brought about a re-examination of the basic fragility and resilience of our bodies.
Synthetic Corpo-reality includes digital artworks which focus on the body as a vehicle to discuss a variety of themes. Topics include: gender politics, personal data collection and surveillance in the digital age, and the search for identity. Further ideas expressed are about the enduring nature of love despite illness and the connection between art, technology and death. In addition a few artists celebrate the body in motion as well as its beauty and resilience. The artworks displayed include: site specific immersive installations,  photography and video, sculptures, a GIF, and deepfake AI technology.
The exhibition is actually an exhibition inside of an exhibition. When the viewers walk into the space they see artwork displayed on the walls. This is the first layer of the exhibition. It is only after clicking on the view room links that the audience will see the artwork fully unveiled. It is in the subworlds that the visitor can then experience the installation and immersive experiences that were specially designed for the exhibition. 
The exhibition will stay open until April 25, 2021. Do yo want to enter Synthetic Corpo-Reality? 
THE ARTISTS

Zhou Xiaohu
The Gooey Gentlemen – 2002
Stop motion animation with sound
---

Miao Xiaochun
Restart – 2008-2010
3D animation
---

Martina Menegon
all alone together – 2020
Virtual sculpture, WebVR immersive installation
---

Claudia Hart
Alice Inside – 2021
Immersive installation 2021, including the 3-channel
---

Tim Deussen and Manuel Zimmer
The Loving Ones – 2020
WebVR immersive installation
---

Sophie Kahn
The Divers VI – 2021
Virtual Sculpture from 3D laser scan
---

Carla Gannis
Origins of The Universe: Dimensioning – 2021
including animated gif and immersive web VR installation
---

Nancy Baker Cahill
EVER NOW – 2019
Animated AR drawing in sphere. Originally commissioned by Facebook Open Arts
---

Auriea Harvey
La Vita Nova – 2021
3D rendered sculptures. WebVR immersive installation
---

Rebecca Allen
Figures Crawling – 2013
Video. Movement Composition and Execution: Hannah Sim, Mark Steger
---

Tamiko Thiel/p
Lend Me Your Face! – 2020
Deepfake AI installation
​