MEET is in Via Vittorio Veneto 2, in the Porta Venezia area, in the heart of Milan. Our headquarters are in a building that dates back to the beginning of the 20th century. The 1,500 square meter surface, which takes three floors, has been redesigned by the architect Carlo Ratti in response to the challenge of creating a home for digital culture. It is a place where digital arts are studied and practiced both physically and virtually, through on-line exchanges and discussions and on-site digital experiences, workshops, master classes, training activities and creative services dedicated to creating cultural opportunities and promote union and connections between Milan and the world.
In this page, we will guide you to discover the spaces that characterize MEET.
The Living Staircase
The digital culture center revolves around the Living staircase, stairs that, from time to time, become a theatre or a work space. Dominated by the orange colour, which is also found in other MEET areas, the living staircase connects the street floor with the third and last floor, thus interpreting the ideas of interconnection and participation between the functions and activities of the center.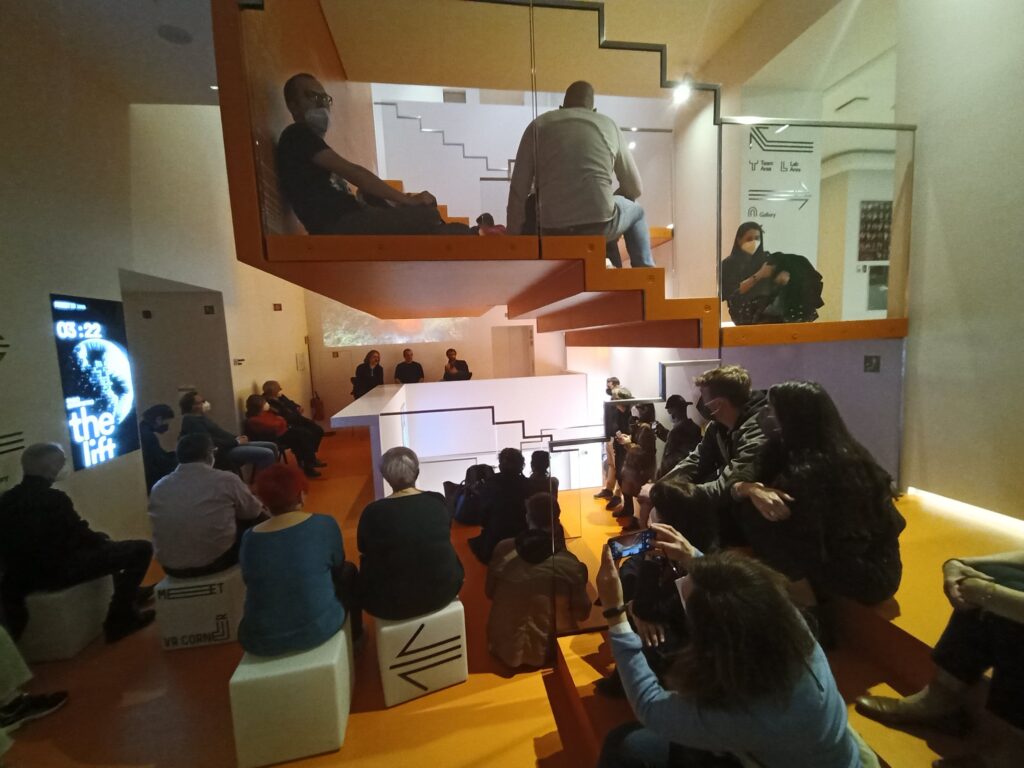 Theater
On the ground floor, the 180-seat theatre with three projection surfaces has been completely renovated and equipped with modern technologies to host conferences, public meetings and cinema. The theatre is used by Cineteca Milano to offer its independent program of exhibitions dedicated to contemporary international cinema. For more information, visit the Cineteca Milano web site.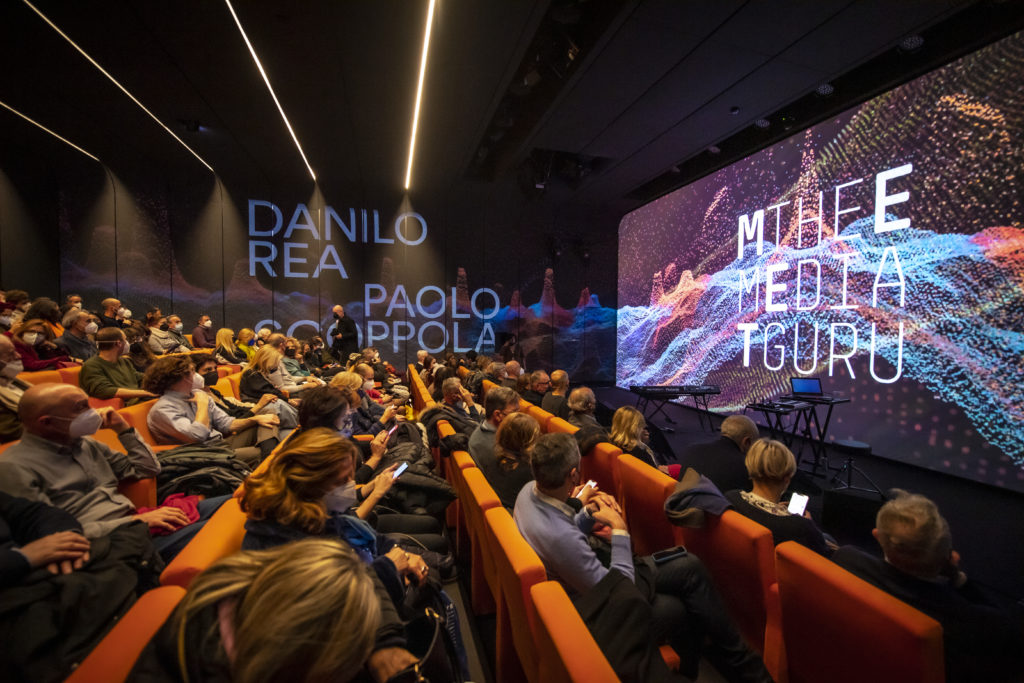 The Immersive room
At the first floor we find the immersive room, a surface of about 250 square meters equipped with 15 projectors, which has been designed, set up and finished to offer an exploration of the potential of creative technologies through the body and the senses. The immersive room offers a continuous projection of extremely bright 4K images on three 270 degree walls. Because of its extreme versatility, it can be adapted to different types of entertainment, from site-specific installations to talks, presentations, concerts, teaching and training activities. MEET's plan is completed by the Gallery, a number of exhibition rooms made with mobile walls that can be organized in totally different configurations, and the Creative Studio, a space dedicated to audio and video editing.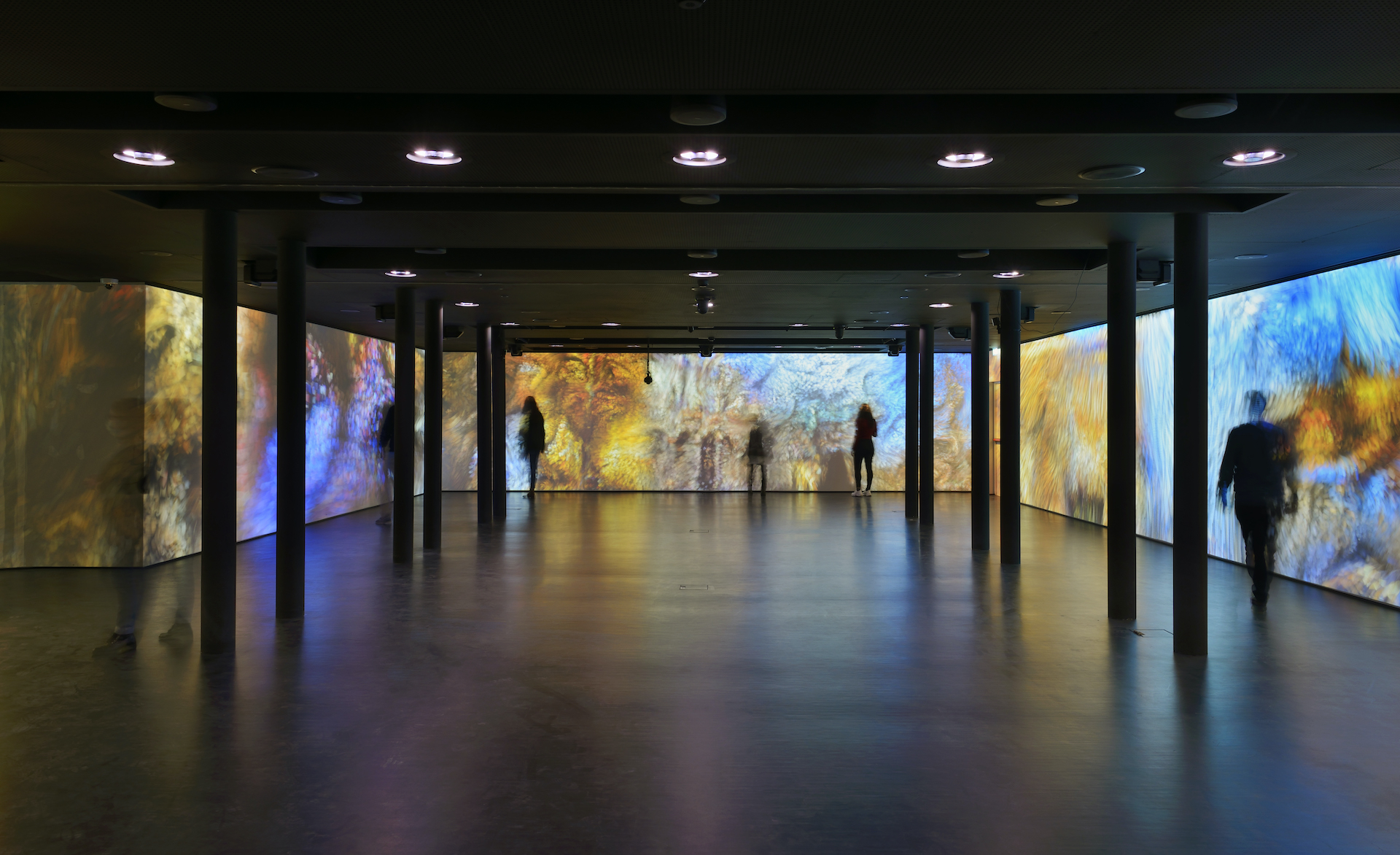 Team & Lab Area
On the second and last floor there are the Team Area and the Lab Area, dedicated to working and training, respectively. All the lighting in the building is signed by Artemide and consists of expressive and scenic appliances, as well as simple fixtures that let pure light describe and highlight architectures, events and communication.
MYMEET Lounge
On the ground floor is the MYMEET LOUNGE, the space that welcomes visitors and invites them to connect with the digital culture center and where meetings and virtual reality programs are held.