Contact
---
Schedules
MEET is open:
Exhibition spaces
Open Tuesday through Sunday from 3 p.m. to 7 p.m. (last admission 6 p.m.) based on scheduling. Reservations suggested.
VRcorner
Open Saturday and Sunday from 3 to 7 p.m.
Offices
Open Monday through Friday, 9 a.m. to 6 p.m.
For special initiatives, scheduled programming in the theaters may be suspended.
It is recommended to check the information on the agenda.
---
Info and Costs
Admission inclusive of all MEET initiatives including the use of VR technologies in the VR Corner opening (Friday through Sunday)
EXHIBITS AND VR CORNER
Admission to MEET exhibits and immersive technologies in the VR corner (Friday through Sunday)
full – 10 €
Reduced (under 25) – 7 €
Family (Genitors and children up to the age of 14) – 15 € to family
Children (up to 6 years old) – free
Disabled people and their carers – free
Promo by 5 / 7 €
By entering the discount code in your online purchase, which you can find by subscribing to MEET's newsletter (sign up here if you are not a subscriber) or on the postcards being distributed at Milan's main cultural venues, you are entitled to reduced admission.
Admission to individual Meet the media Guru events and Aperitifs in VR is free.
Tickets are on sale online here or can be purchased on site.
School activities
Different visiting times can be arranged for schools and groups: for information write to: team@meetcenter.it
Or contact from 9 a.m. to 12:30 p.m. at 02-379011 (after the recorded entry press 4)
Guided "Immersive Experience" tours can also be arranged.
Primary and middle schools:
IMMERSIVE EXPERIENCE: From Space to Renaissance with the Planetarium Workshop.
Renaissance Dreams, the immersive installation by media artist Refik Anadol
High Schools:
IMMERSIVE EXPERIENCE: From Space to the Renaissance with the Planetarium Workshop
Renaissance Dreams, the immersive installation by media artist Refik Anadol
MEET VR CORNER | RAI Cinema VR 360°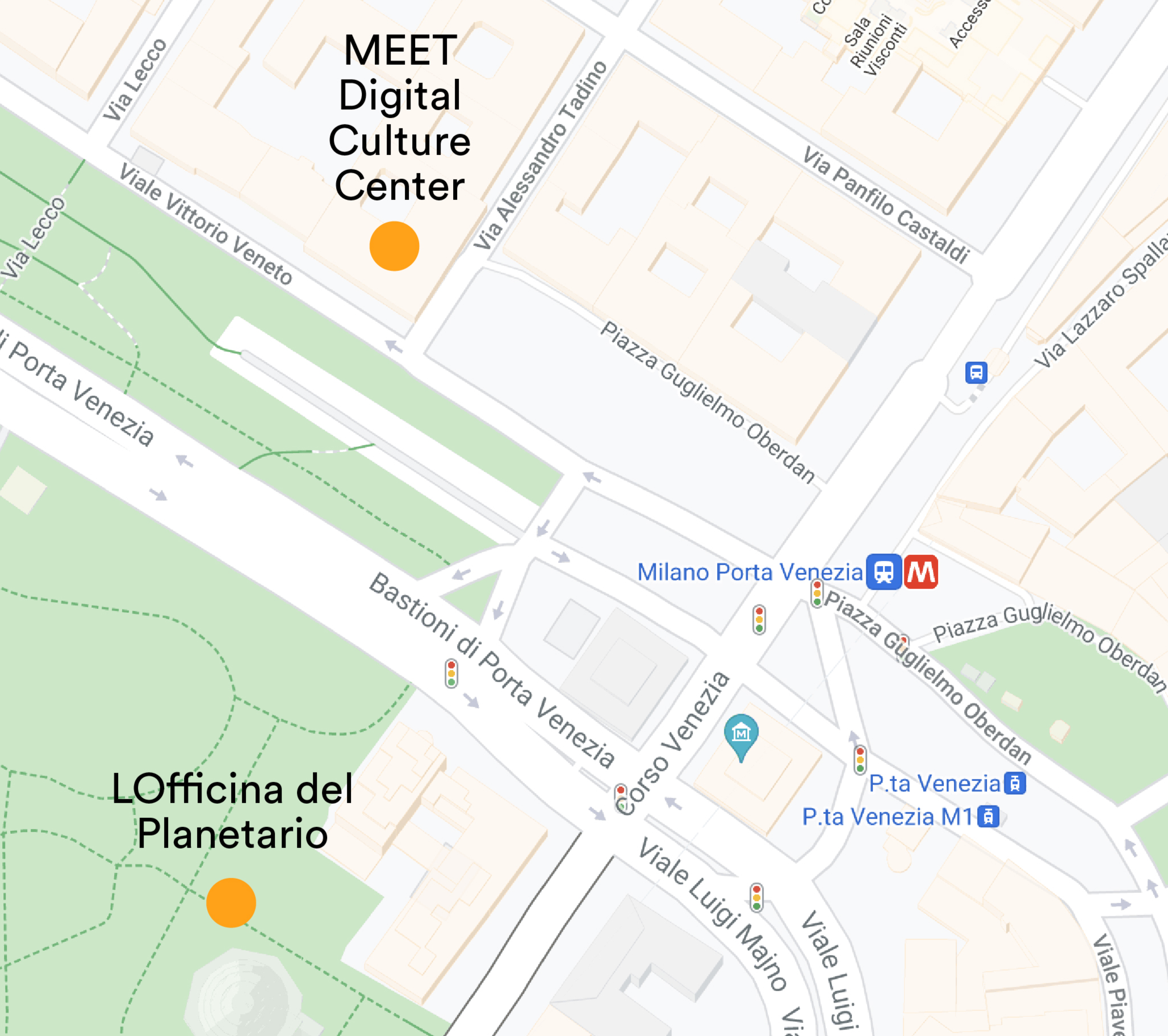 ---
How to reach us
Viale Vittorio Veneto 2 – 20124 Milan (Italy)
Subway: M1 Porta Venezia
Streetcar: 5, 9, 33
Suburban: S1, S2, S5, S6, S12, S13