Event
Symphony for the Metaverse | the program in the Metaverse
It continues Until Oct. 15 Symphony for the Metaverse the exhibition curated by George Vitale, where you can visit the artists' works set up in a "vertical gallery" of containers that contain the worlds set up by the artists, spaces that contain other spaces in a continuous game of cross-references.
The exhibition can be visited for free on Mozilla Hubs, one of the most immediately usable VR platforms, allowing anyone with no experience to be able to enjoy an immersive experience from home that can be accessed from a regular PC browser.
To give the best possible experience to visitors who wish to get close to the artists' works, we look forward to seeing you on Thursday, Sept. 22 and 29, at 6 p.m., for a guided tour with curator George Vitale, who will take us through the exhibition environments.
The experience in Symphony for the Metaverse continues on Wednesday, October 5, with a special event with the artists on the theme of SOUND ART.
SOUND BECOME SITE, Mattew Gantt's sound installation created for the virtual exhibition Symphony of the Metaverse will be on view with its creator. The appointment, open to all is in call conference ZOOM at 6 p.m. at this address introduces us to his work, and then we move into the Metaverse.
This is the zoom address to attend
Saturday, October 15 will conclude with the finissage of the exhibition.
Are you ready? Let's go!
Here are some brief instructions for having a good experience of the exhibition inside the Mozilla Hubs.
Make sure you have:
– a computer (NO smartphones)
– a stable connection
– a mouse
– earphones
– to use one of these browsers: Mozilla Firefox / Google Chrome (NO Safari)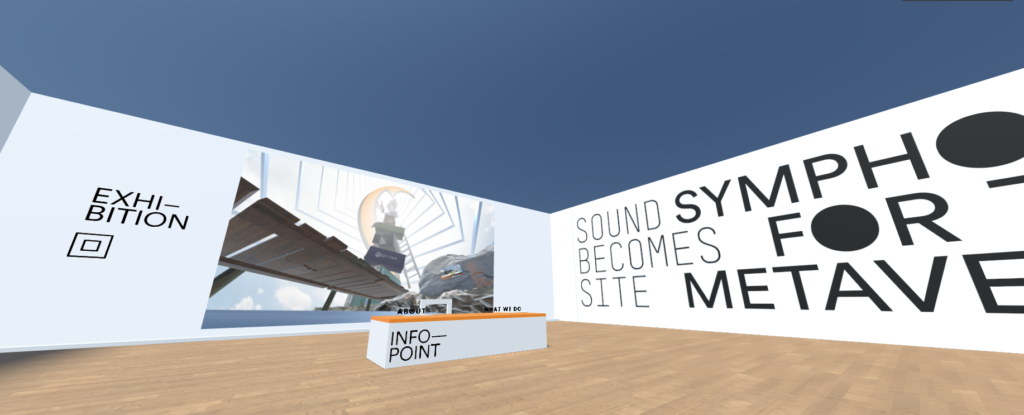 ​