Event
AugE Next Artathon Milano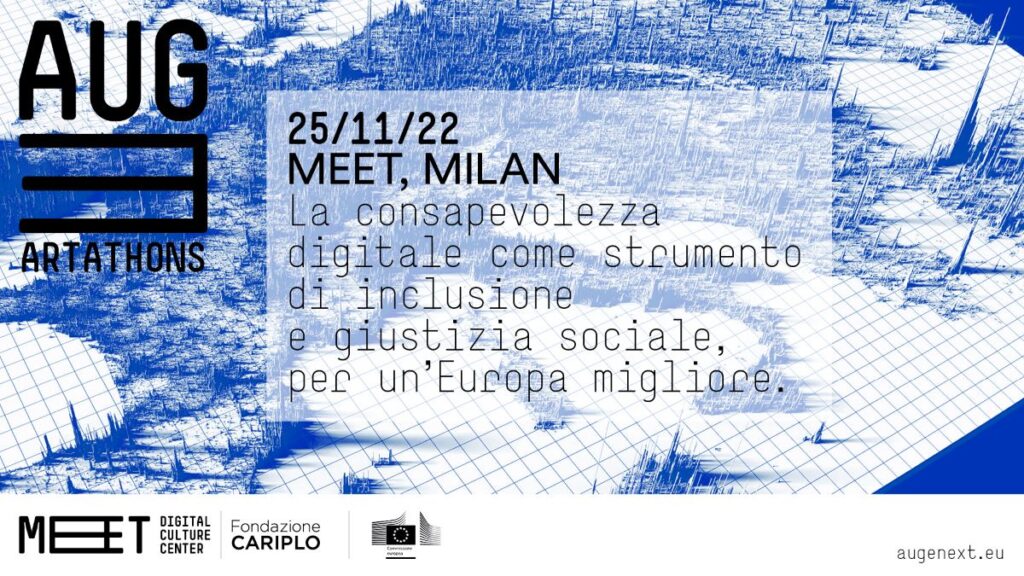 Making Europe a better place through the co-creation of ideas, visions and actions on digital as a tool for inclusion, justice and equality. This is the goal of the AugE Next project aimed at girls and boys under 30.
On Friday, November 25, from 10 a.m. to 5 p.m. MEET Digital Culture Center will host the Milan Artathon.
If you are under 30, hope for a more just and sustainable future, and believe that digital innovation can be used as a tool for social inclusion, you are the person we are looking for! You can join over 150 young people from Berlin, Riga and Thessaloniki!
There will be a team of facilitators running the working tables, and the co-creation process will focus on four macro-categories:
– Social and algorithm: being present on social means being immersed inside a bubble that filters the news and content we receive. How to burst the bubble? What does it mean to be censored on social in 2022? Strategies and techniques to confound the algorithm.
– AI and bias: The future of artificial intelligence will depend on the ability to resolve the issue of bias. In a non-inclusive society, artificial intelligence replicates the biases and prejudices that cause social discrimination. How does AI influence policy decisions and surveillance systems? The increase in available data and the development in computing capabilities are likely to make this a key issue for the future. How to change the trend?
– Digital Utopia: Another Future is Possible. Decades of dystopian literature and filmmaking have shown us the dangers of digital progress, but it is difficult to get an overview when immersed in a transitional phase. How can hyperconnection and continuous sharing lead to a more welcoming and less judgmental society?
– Commodified data: Advertising is certainly not a new phenomenon, but profiling so precisely based on interests, actions and behavioral patterns is. We all authorize the use of our data, but how aware are we of the risks we are taking? Today the advertising you find online is already tailored to you, what will it be like 50 years from now?
Program
9.40 – 10.00
Credits
10.00 – 10.30
Welcome and warm up10.30 – 11.00
Keynote speech & ideas presentation
11.00 – 12.40
Brainstorming (teamwork)
Participants are divided into 4 groups. Each group works on a specific course of the Artathon.
12.40 – 13.00
First pitching
Each group has 3 minutes to present their challenge and gather feedback
13.00 – 14.00
Lunch break
14.00 – 16.00
Realization of the idea (teamwork)
Each group works on a presentation
16.00 – 16.50
Pitching: Final presentation of the idea (plenary session)
Connection with Riga, Berlin and Thessaloniki. Each country has 12 minutes to present results of group work. MEET has 3 minutes per working group.
16.50 – 17.00
Greetings and conclusions
Do you want to actively participate in the Artathon? Fill out the registration form
(hashtags: #Europe #Youth #Inclusion #Diversity #DigitalAwareness)
​