Post
Eddie Choi: marketing e new media
Giovedì 20 marzo, primo appuntamento Exhibitionist, evento organizzato da Fondazione Fiera Milano di cui siamo partner, che vede il digital marketer Eddie Choi concentrarsi su come si integrano tecnologia e comunicazione in un evento fieristico, ma non solo.
Interagire con l'audience tramite i social media, tracciare i visitatori grazie a un accurata lettura dei Data, sperimentare le applicazioni di Augmented Reality sono skills ormai indispensabili nella progettazione di un evento.
Ten years from now, when the exhibition industry fully adopts online marketing intelligence to develop highly relevant events, exhibition will become a point of purchase rather than just a registration desk and a shelf for showcasing products.
Socio fondatore di Frontiers Digital – agenzia di web marketing – Choi è anche direttore esecutivo di Milton Exhibitis Group, società che gestisce diversi portafogli di business in Asia tra cui alcune manifestazioni fieristiche a carattere internazionale. In Milton Exhibits, Eddie guida l'area al servizio dell'innovazione alla ricerca della perfetta integrazione fra eventi online e offline.
Nel settore fieristico, Eddie viene considerato un precursore: nel 2000 ha sviluppato il primo portale online B2B in Cina per la seconda fiera più grande al mondo delle materie plastiche e della gomma.
Eddie Choi è inoltre membro del Global Advisory Board of Search Engine Strategies (SES), cura una rubrica personale sul sito Clickz.com ed è Senior Trainer per Econsultancy in Asia.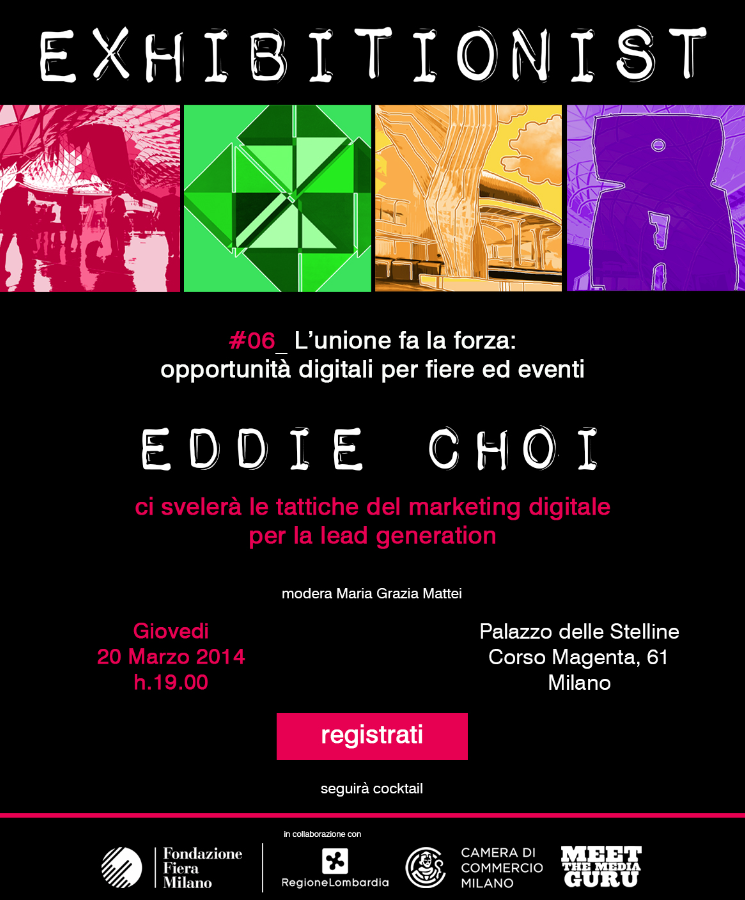 ​