Summer at MEET is an opportunity to discover how much the beauty of art is intertwined with science, digital with creativity, and find lots of content created by the best performers of the Italian and international cultural scene.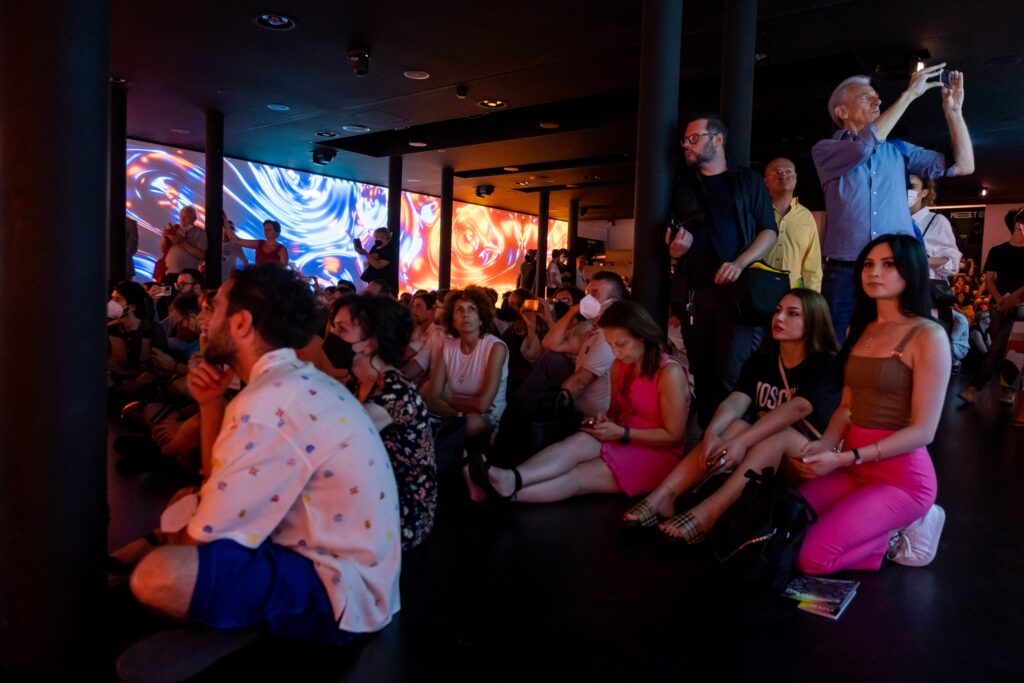 The Italian Digital Art Experience is the new exhibition project that animates the MEET Digital Culture Center until August 31.
For the first time in Italy we propose an anthology of digital projects – from video mapping, to light art, to immersive works – produced in our country and collected in a traveling project commissioned by the Ministry of Foreign Affairs and International Cooperation, to enhance Italian digital creative studios in the world.
The exhibition itinerary at MEET begins inside the Galleries. The first is dedicated to Micro-Monumental Mapping a projection technique that makes it possible to transform surfaces and architecture into a display on which to project images, videos, graphic animations and light games, which create optical effects and illusions of great visual impact.
The second is dedicated to Immersive Art, which represents one of the most interesting evolutions of recent years with its ability to involve the viewer to the point of transforming him or her into a leading actor in the experience.
The Italian Digital Art Experience culminates inside the Immersive Room, where a collective work created by 21 creative studios representing the peaks of excellence at the Italian and international level of these new forms of digital art comes to life.
But a visit to MEET also offers other opportunities to learn about the frontiers of creativity and technology. In the VR corner we have the chance to experience with VR viewers a review of short films in virtual reality made by Rai Cinema or immerse ourselves in artist Fabio Giampietro's work Hyperplanes of Simultaneity, the incredible vision of a futuristic city poised between dream and reality
At the Meet even the walls speak, literally!
Digital technologies are not only the future but also have an extraordinary past.
Following the path of the Roots of the New, the collection of posters, posters, photographs and objects arranged on the Center's three floors that are part of the Historical Archives, we can listen to their stories by framing the QRCODE displayed near the objects with our cell phones.
INFO AND COSTS.
admission to the MEET exhibits and immersive technologies in the VR corner (Friday through Sunday)
Full – 10 €
Reduced (under 25) – 7 €
Families (Parents and children up to 14 years) – 15 € per family
Children (up to 6 years) – free of charge
Disabled and their companions – free of charge
Promo from 5 to 7 €
By entering the discount code in your online purchase, which you can find by subscribing to MEET's newsletter (sign up here if you are not a subscriber) or on the postcards being distributed at Milan's main cultural venues, you are entitled to reduced admission.
Tickets are on sale online, or can be purchased on site
​