Event
The New Atlas of Digital Art | Are humans still Necessary?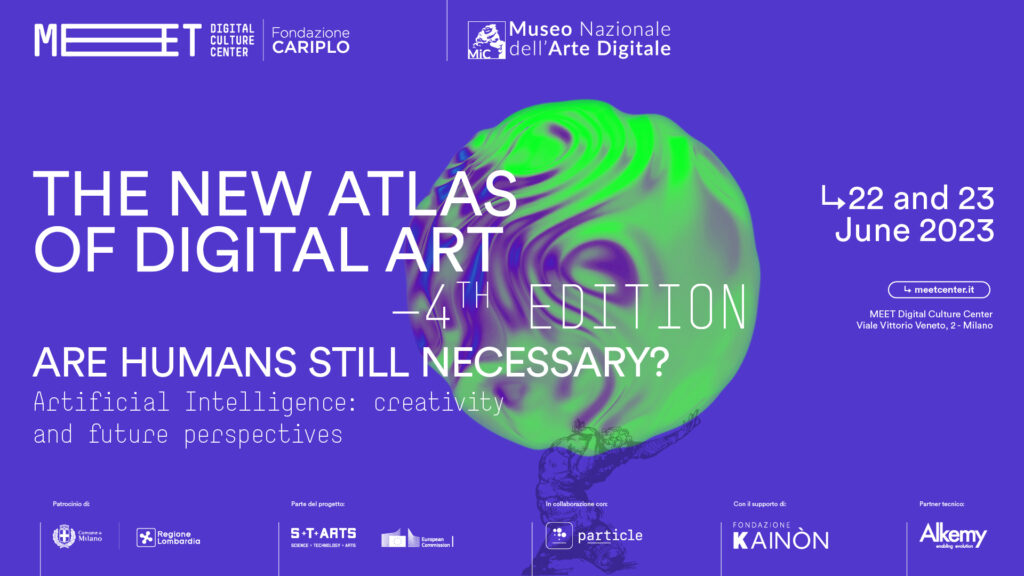 The New Atlas of Digital Art – Are humans still Necessary? is the annual international meeting with European centers of Art, Culture and Technology – in its fourth edition – organized by MEET Digital Culture Center again this year in collaboration with MNAD, National Museum of Digital Art to continue and enrich the interdisciplinary reflection on the impact of technologies on society, through the lens of Art and Digital Culture as tools for interpreting the present and imagining possible futures.
The meeting is part of the S+T+ARTS in the City project and will this year explore the dialogue between machine power and human creativity and the possible collaborative relationships between different intelligences – Artificial Intelligence, Human Intelligence – as a symbiotic act to imagine a more collaborative, more sustainable, more inclusive future.
The meeting will feature artists, experts, researchers who will go on to outline ethical, sociological, philosophical, aesthetic and technological visions and perspectives, outlining a collective and interdisciplinary thinking necessary to understand the complexity of this time.
The meeting will consist of inspirational talks, joint reflections, panels and educational workshops and will involve artificial intelligence in response to human work.
The New Atlas of Digital Art
Are humans still Necessary?
MEET Digital Culture Center
June 22 – 23, 2023
Thursday, June 22
They lead: 
Carlo Antonelli, Journalist and Cultural Producer
Maria Grazia Mattei, President and Founder MEET Digital Culture Center – Milan, Italy
Ilaria Bonacossa, Director National Museum of Digital Art – Milan

9.30 – 10.00 – Institutional greetings

Maria Grazia Mattei – Founder and President MEET Digital Culture Center – Milan
Patrizia Asproni – Cda Fondazione Cariplo culture sector referent – Milan
Claudia Colla – Capo dell'Ufficio regionale di Milano della Commissione Europea
Alessandro Fermi – Councillor for University, research, innovation Regione Lombardia
Tommaso Sacchi – Culture Councillor City of Milan
10.00 – 10.30 – Keynote speaker: Maurice Benayoun, New media artist, theorist, and curator — Hong Kong/Parigi
---
10.30 – 12.00 – Scenarios and trends.
The first session investigates the state of the art, with an overview of the technological scenario, its transformation and related creative trends and co-creative possibilities. AI as an activator and detector of interconnections in the collective memory, entering creative processes with artists and curators, activating new expressive possibilities and outlining new professions. Case studies and examples will be brought from different creative fields: visual arts, music, literature, etc.
Contributors
Wolf Lieser, Director DAM – Berlin
Aisling Murray, Creative Producer and Founder Beta Festival – Dublin
Mauro Martino, Founder and Director "Visual Artificial Intelligence Lab" IBM Research – Boston
Roberto Beragnoli, Artist / MVP Designer – AI trainer – Firenze
Sofia Crespo & Feileacan McCormick, Generative artists Entangled Others – Lisbona 
Eleonora Brizi, Digital & Crypto Art Curator – Milano


---
12.00 – 13.15 – Cultural, social, ethical implications.
The inevitable Artificial Intelligence/Human Intelligence interaction in creative processes and beyond, including decision-making and governance processes, opens up new philosophical, ethical and regulatory questions, from singularity to the decentralisation of resources, from the use of data to new participatory possibilities, not excluding the environmental impact and more generally the impact on culture and society.
Contributors
Giulia Bini, Curator and Program Manager Enter the Hyper-Scientific – EPFL – Lausanne
Joana Miranda, General Coordinator Braga Media Arts – Braga
Roberto Fassone, Artist – Firenze
Mattia Pivato, Lawyer, Pedersoli Studio Legale – Milano
Paolo Bottazzini, Data Analyst and publicist – Milano
13.15 – 13.45 – Interlude with Artist
---
14.00 – 15.30 – Light Lunch
---
15.30 – 17.30 – What Future? Between Dystopia and Utopia
It is the most 'free', 'creative' chapter left in the hands of young artists where we reflect on the future of AI and creativity and the new boundaries between true/false and forms of verisimilitude. We present research cases that foreshadow a future, its elements of development, possible trends.
Contributors
Alessandra Condello, Architect e visual artist – Roma
Silvia Dal Dosso, Co-founder Clusterduck – Milano
Francesco D'Isa, Digital artist and writer – Firenze
Giuseppe Lo Schiavo, Visual artist – Milano
Lorem, Digital musician – Brescia
Max Papeschi, Artist – Milano
Matteo Urbani, Visual artist and engineer – Milano
17.30 – 17.45 – Interlude with Artist
---
18.00 – 18.30 – Patrizia Caraveo presents the artists Rasa Šmite e Raitis Šmits, and the installation Deep Sensing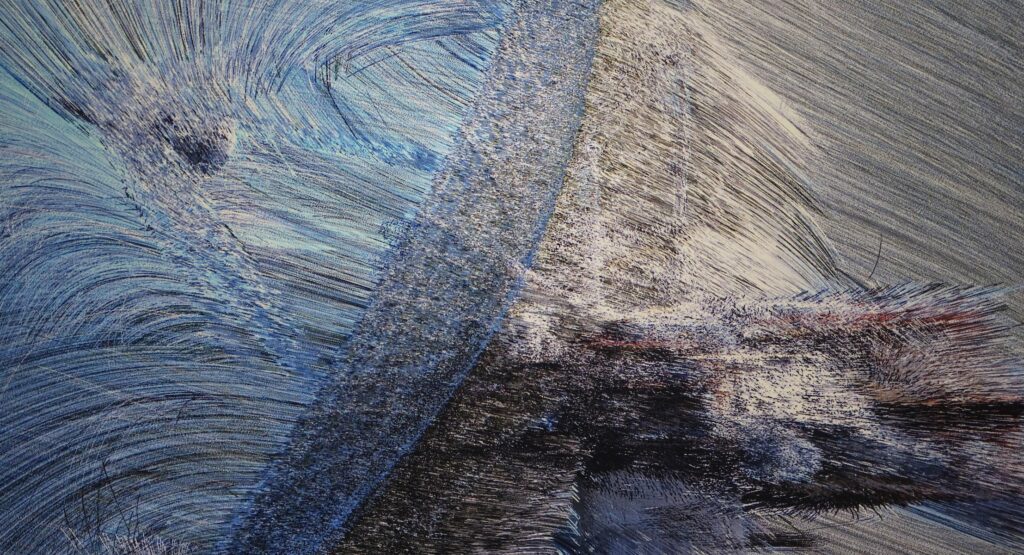 18.30 – 22.00 – OPENING Deep Sensing di Rasa Šmite e Raitis Šmits – MEET Digital Culture Center Immersive Room – June 22 to July 30
19.00 – 22.00 – OPENING Humans making tech making art making human di Addie Wagenknecht
Casello Daziale ovest, Porta Venezia
Also participating: 
Piero Bassetti
Chiara Canali, Art Curator
Valentino Catricalà, Curator SODA Gallery Manchester
Roberto Diodato, Professor Università Cattolica del Sacro Cuore
Giusella Finocchiaro, Jurist
Shabnam Mousavi, Senior Researcher and Team Leader at CENTAI
Rebecca Pedrazzi, Art historian and critic, IULM AI Lab
Ippolito Pestellini Laparelli, Architect and founder of the think tank '2050+'
Francesco Urbano Ragazzi, Curator
Emanuela Totaro, Segretario Generale Fondazione Kainòn
---
Friday, June 23
10.00 – 11.00 – Restitution of the work of 22 June with Carlo Antonelli in dialogue with AI – MEET Theatre
11.30 – 12.30 – Keynote speaker, Addie Wagenknecht
Introduced by:
Maria Grazia Mattei, President and Founder MEET Digital Art and Culture Center – Milan
Ilaria Bonacossa, Director National Museum of Digital Art – Milan
Emanuela Totaro Secretary General Kainon Foundation)
---
WORKSHOP AI 4 CREATIVITY
Friday, June 23: 3 p.m. – 7 p.m.
Saturday, June 24: 10 a.m. – 7 p.m.
by Luca Stornaiuolo – MEET Executive
The Workshop is designed for professionals with a basic understanding of artificial intelligence in the creative industries that aims to deepen their skills and abilities by providing extensive hands-on training in the use of artificial intelligence-based tools.
https://www.mailticket.it/manifestazione/CK36/ai-4-creativity
---
Saturday, June 24
Open Day: galleries and digital spaces in Porta Venezia
Participating:
Clima, Via Alessandro Stradella 5
Luca Tommasi, Via Cola Montano 40
Loom Gallery, Piazza Luigi di Savoia 24
Martina Simeti, Via Benedetto Marcello 44
The Flat – Massimo Carasi, Via Paolo Frisi 3
Raffaella Cortese, Via Alessandro Stradella 7-4
Spazio Lima, Via Benedetto Marcello 2
Vistamare, Via Spontini 8
​