Event
#VRE21 – Extended Edition at MEET
VRE – Virtual Reality Experience, Extended Edition is a well-known Italian festival entirely dedicated to immersive experiences. MEET hosts as Satellite Venues a review of works ranging from VR Cinema, VR Exhibition, XR Arts & Gamification, addressing also the theme of events in VR. An overview of the versatility of the VR world. MEET provides all the necessary technologies for the fruition of the festival.
The projections
The Hangman at Home (2020) by Michelle and Uri Kranot-Danimarca
25'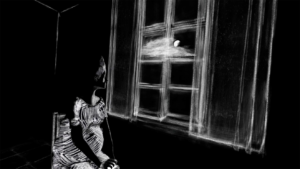 "What does the executioner think about when he gets home from work in the evening?" Inspired by Carl Sandburg's 1922 poem of the same title, this VR experience explores themes of acceptance and participation. It's not just about hanging people; it's about the awkward intimacy that comes with being human and the connection between viewer, witness, and accomplice. The interactive experience invites the viewer inside five interconnected stories that capture crucial moments in people's lives.
Samsara (2021) by Hsin-Chen Huang-Taiwan
20'
In the near future, the Earth's environment is completely destroyed by the human race. We must abandon it and find a new home in space. After hundreds of years of space travel, we have re-engineered our DNA and artificially evolved into a new form.
Paper Birds 1&2 (2020) by German Heller, Federico Carlini-Argentina
19'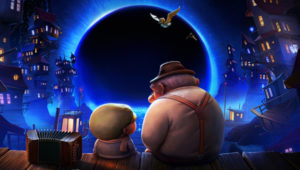 A nearsighted child with an exceptional talent for music must embark on a journey through the world of darkness and rescue his sister, who has been kidnapped by a dark shadow. Designed specifically for Oculus Quest, Paper Birds is neither a game nor an entirely narrative projection. This quirky VR film uses light interaction to welcome visitors into the unknown. A story of inspiration, insight, emotion and music. A journey created to delight the senses…. Do you dare to embark?
Namoo (2020) by Erick Oh – Corea, Usa
12'
Namoo is a narrative poem that comes to life as an animated short film. Inspired by the passing of director Erick Oh's grandfather, Namoo – which translates to "tree" in Korean – follows the significant moments of a man's life from its beginning to its end. The film, completely hand-painted, follows one man's journey from its beginning to its end. As a young man he falls in love with painting, and as an adult he falls in love with another person. Nothing lasts forever, and in the end he finds himself a broken man who puts a blindfold – literally – on his past and his mind on the future to move forward. As he faces his own mortality, will he learn to accept the life he has led?
Marco & Polo Go Round (2011) by Benjamin Steiger Levine – Canada, Belgio
12'
Marco & Polo Go Round is a comedic love story with a surreal twist. A couple faces difficulties in their relationship as gravity turns upside down and the world literally collapses around them.
Madrid Noir ep. 1 (2021) by James A. Castillo – Inghilterra, Francia, Spagna
38'
After her uncle is declared dead, a disenchanted young woman arrives in Madrid to empty out the apartment he left behind. Lola is soon forced to delve into her memories, where she picks up on her uncle's dark trail and attempts to piece together the puzzles of the past. Staged as an impressive theatrical production, this fascinating journey takes place in a city that lives in the night, a Madrid now lost in time.
Reformed A.I. (2021) by Lino Stangis-Italia
5'
In this 3D virtual reality you are literally immersed in a dark environment that illuminates and discovers the shape of space with the passage of two modified robot drones (one ground drone and one air drone) to which special particle lighting effects have been added, which linked to their movements draw colorful and lightning fast evolutions that paint and re-paint the environment continuously.
Kusunda: Speak to Awaken (2021) by Felix Gaedtke and Gayatri Parameswaran – Germania
23'
KUSUNDA is a voice-driven virtual reality experience that explores what makes a language fall asleep and what it takes to awaken it. Kusunda shaman Lil Bahadur has forgotten his native indigenous language. His granddaughter, Hima, wants to revive it. Every two weeks a language falls asleep. Most of the endangered languages belong to indigenous communities like Kusunda in Nepal. Narrated by its co-creators, the projection contrasts two generations separated by their lifestyles and united by the struggle for their indigenous identity.
Il Dubbio (2020) by Matteo and Francesco Lonardi– Italia
12'
Have you ever questioned what you are worth? Have you ever tested yourself against an invisible force? The greatest masters of all time lacked conviction and doubted themselves. What if doubt was the key to their genius? Doubt is an interactive Virtual Reality experience that explores doubt within the creative process.
DiMoDa 4.0: Dis/Location (2021) by Christiane Paul, Alfredo Salazar-Caro – USA
20'
Dis/Location explores the feeling of displacement or disruption from a place or state of one's own, original, or habitual-an experience that defines our time-in various contexts, from evolution to the perception of space afforded by technologies and racial trauma.
Bystanding: The Feingold Syndrome (2021) by Nimrod Shapira, Roi Lev – Israele
13'
Bystanding recreates the capsizing and drowning of Israeli kayaking champion Jasmine Feingold in the Tel Aviv River in 2009. Participants are transported to the park for 4.5 minutes, the time Jasmine spent underwater, in which they can literally step into the bodies of passersby to witness their inner thoughts and deepest confessions. Each confession is experienced as a totally different memory of that day, providing a glimpse into this person's "stream of consciousness."
African Space Makers (2020) by The Nrb Bus Collective – Kenya, Repubblica Democratica del Congo
50'
Our journey begins in Nairobi, one of Africa's most vibrant metropolises. The mission is to find five creative spaces through the eyes of as many unparalleled collectives. You can choose the genre and order in which to visit the spaces and, in each one, you can decide what to do and where to go next.
Vulcano-la vita che dorme (2021) by Omar Rashid – Italia
A film that shows the eruption of the Icelandic volcano on Mount Fagradalsfjall, after 800 years of inactivity. This 360° immersive journey, among boundless landscapes and rivers of incandescent lava, reconstructs the event of the eruption in all its spectacularity. Virtual reality transports the viewer to an unexplored place, leading him to the foot of the volcano.
Upstander (2020) by Van Phan – USA
8'
Upstander is a 360° animated experience about bullying and how we can make a difference. By immersing the audience in a world adjacent to our own, we are challenged to think and act. How can we be part of the solution and not be part of the problem?
Strands of mind (2020) by Adrian Meyer – Germania
12'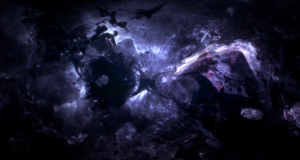 Explore a world beyond the limits of our human perception, full of mystery, beauty and darkness. Be transported on a journey into the intertwined nature of existence.
Replacement (2020) by Jonathan Hagard – Giappone
12'
"Replacements" (Penggantian) portrays a family habitually observing their neighborhood day after day, generation after generation, replacement after replacement. It is a VR story about roots, time, and change.
Red Eye (2021) by Snhmoo Lee – Corea
18'
A secretly developed chemical weapon has leaked and turned people into mutants. To prevent the annihilation of the entire city, two Special Forces agents volunteer for a suicide mission to detonate the antidote tank inside a factory occupied by thousands of Red Eyes. The captain has another mission to handle and decides to confess his feelings to partner Sargent Park before facing the final moment.
Noah's raft (2021) by Joel 'Kachi Benson e Tal Michael Haring – Nigeria
21'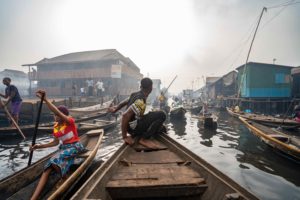 From a young age, Noah Shemede believed his destiny was on the water, but after attending a school in the city, he returns home with a dream: to use his education to transform the lives of children living in Makoko, the floating slum outside Lagos. It won't be an easy task. From birth, in fact, children are taught to help their parents build boats, make nets and fish. Education is a foreign concept, yet Noah's desire is relentless and with a team of volunteers he sets out on a mission to change his community.
Kinshasa Now (2020) by Marc-Henri Wajnberg – Repubblica Democratica del Congo
20'
35,000 children accused of witchcraft and rejected by their families try to survive on the streets of Kinshasa, Democratic Republic of Congo. Fourteen-year-old Mika suddenly finds himself in this terrible situation, having to learn the law of the street, find a way to eat and sleep, but also to protect himself by joining a street gang. How will she fare in this new life? As the story unfolds, the viewer is presented with choices. Which path will he take?
The Forgotten Ones (2019) by Nyasha Kadandara– Ciad, Kenya, Zimbabwe
10'
The Forgotten Ones is a 360° immersive narrative inside East Africa's largest landfill, told from the perspective of the landfill itself. This film explores the story of those we call the forgotten, those who have no voice and as such fade into obscurity.
Access will be by subscription (15 euros, free for those under 25) and reservation is required.