Event
Innocult Fest | find out the programme
An international exhibition of installations, performances and projects exploring how the creative industry can embrace digital innovation. The Fest is the last stage of the European project Innocult co-funded by the European Commission.
Innocult Fest is organised by MEET in collaboration with ETOPIA Zaragoza, INOVA+ Porto and a network of creative industries and practitioners presenting their ideas and new trajectories for public engagement.
Visitors will have the opportunity to see the projects of the Italian, Spanish and Portuguese participants and attend various live performances. MEET organises workshops and talks on the theme of XR.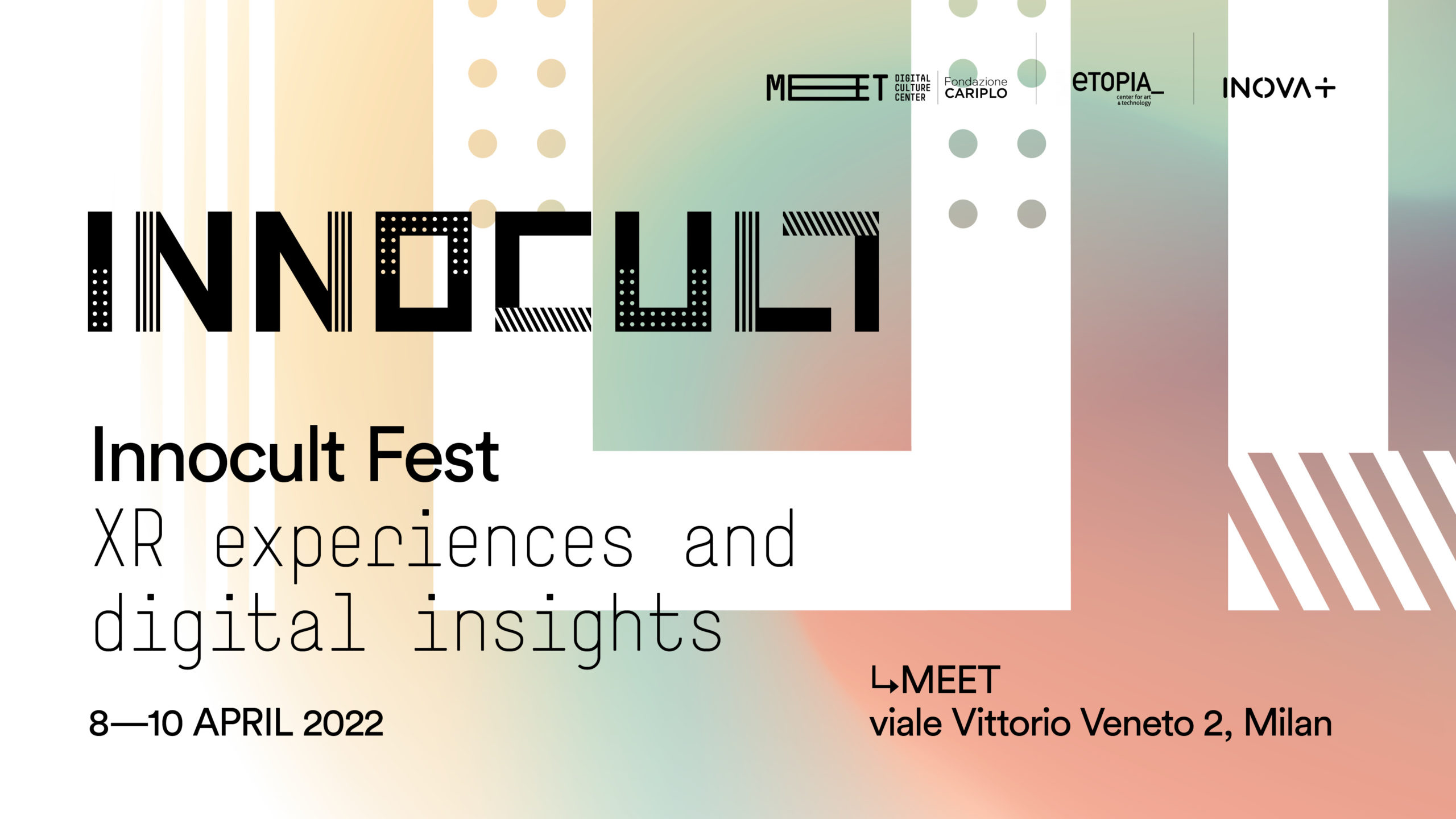 Find out the programme!
FRIDAY 8 
6.00-8.00 pm (GALLERY 1, 2, 3)
XR INSTALLATIONS
Casa Ilustrada by Joy Moraes (ES); Esto No Es Un Museo by Ana Gracia Carmona, Pablo Lafarga Ostáriz (ES); – I and Thou by Martin Romeo (IT); Scorpiocciola by Opup (IT); Within by Jemima Cano, Iker Pomposo (ES)
---
6.00-8.00 pm (IMMERSIVE ROOM)
DIGITAL ART EXPERIENCES
Amor and Psyche (In Times of Plagues) by VestAndPage DE/IT
Presented by Performance Art Vid IT
---
6.30-7.00 pm (MyMEET Lounge)
LECTURE
 Digital innovations meet cultural institutions by Julie Walsh (US)
---
7.00-8.00 pm (MyMEET Lounge)
COCKTAIL
---
8.00-9.00 pm (IMMERSIVE ROOM)
LIVE PERFORMANCE
1 9 Monologue by VestAndPage DE/IT
Presented by Performance Art Vid IT
SATURDAY 9
11.00 am-1.00 pm
3.00 pm-7.00 pm
(GALLERY 1, 2, 3)
XR INSTALLATIONS
Casa Ilustrada by Joy Moraes (ES); Esto No Es Un Museo by Ana Gracia Carmona, Pablo Lafarga Ostáriz (ES); I and Thou by Martin Romeo (IT); Scorpiocciola by Opup (IT); Within by Jemima Cano, Iker Pomposo (ES)
---
11.00 am-1.00 pm
3.00 pm-7.00 pm
(IMMERSIVE ROOM)
VR EXPERIENCE (ART, ARCHITECTURE, CINEMA)
 Osaka 70 by T.E.A.M (IT)
Still Life by Chiara Passa (IT)
Dream Builders – The Cenotaph of Newton by Arnaud Desjardins (FR)
---
11.00 am-12.00 pm (MyMEET Lounge)
CHILDREN'S LAB
Littledot Lab by Luigi Maniglia (IT)
---
3.00-7.00 pm (MyMEET Lounge)
VR EXPERIENCE
Performing into the Metaverse by Wondar Studios (IT)
---
3.30-6.30 pm (LIVING STAIRCASE)
PITCH SESSION
Amplitune by David Mingorance, Lorena González;  BRAIN Entertainment by Miguel Bello;  D'Ensayo Festival by Sara Muttoni, Carmen Serrano; FAHR by Filipa Reis; Filmes da Mente by Victor Santos; FIMS-Fundação Instituto Arquitecto José Marques da Silva by Luís Urbano; Hearts by Felice Vino; Hidden Lines by Thomas Lubbers; Leading by João Vasconcelos, Carin Isacson; Madrix/Macedonia by Daniel Llamas; Marla by Davide Del Monte; Muse by Valentina Zucchi; OSTV-Canal 180 by João Vasconcelos; Platafoma Pandemónio by Marta Moreira; SPOT (Sociedade Portuense, Outras Têndencias) by Joana Lima; Theatro Circo by Joana Miranda; Virtual Gallery by Raquel Póvar
---
6.30-7.30 pm (IMMERSIVE ROOM)
LIVE PERFORMANCE
Out+Experience by Crexida (IT)
---
8.00-9.00 om (MyMEET Lounge)
COCKTAIL
---
9.00-10.00 pm (THEATER)
LIVE PERFORMANCE
Human / Machine – A Mutual Interpretation by Esplorazioni Contemporanee (IT)
SUNDAY 10
11.00 am-1.00 pm (GALLERY 1, 2, 3)
XR INSTALLATIONS
Casa Ilustrada by Joy Moraes (ES); Esto No Es Un Museo by Ana Gracia Carmona, Pablo Lafarga Ost.riz (ES); I and Thou by Martin Romeo (IT); Scorpiocciola by Opup (IT); Within by Jemima Cano, Iker Pomposo (ES)
---
11.00 am-12.00 pm (MyMEET Lounge)
CHILDREN'S LAB
Littledot Lab by Luigi Maniglia (IT)
---
11.00 am-1.00 pm (IMMERSIVE ROOM)
VR EXPERIENCE (ART, CINEMA)
Still Life by Chiara Passa (IT)
Dream Builders – The Cenotaph of Newton by Arnaud Desjardins (FR)
​