Event
Cadenza | Virtual Exhibition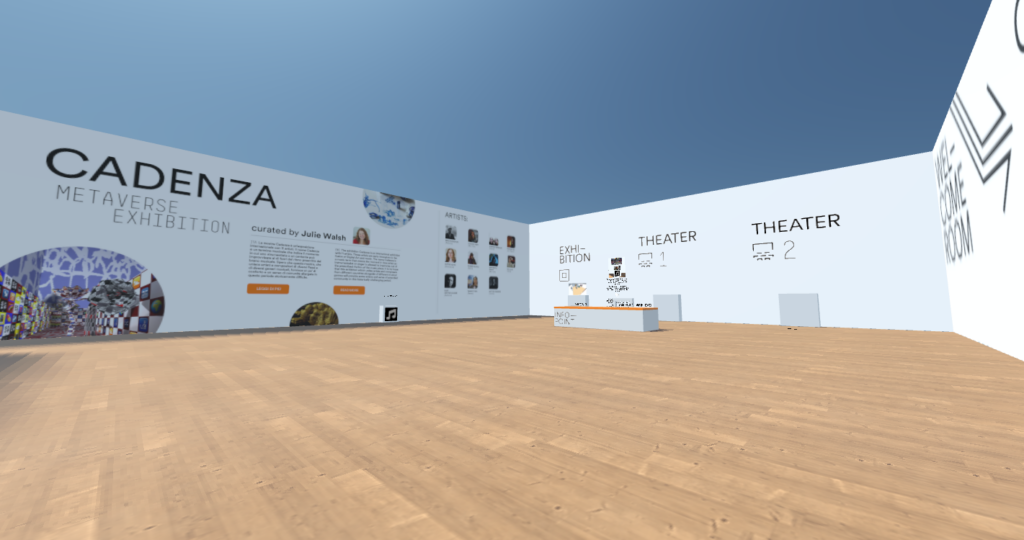 MEET hosts Cadenza, a Virtual Exhibition that brings together digital art and music innovators from around the world. The opening of Cadenza is Thursday, Thursday 30 on MEET's inhabitable stairs, where accompanied by the curator, Julie Walsh, Independent Curator of Digital ArtWalsh Projects, we will be able to tour the virtual exhibition spaces set up in the Mozilla Hubs Metaverse and meet the international artists participating, with Oculus visors available at our VR Corner.
To access the exhibition, click here!
Some brief instructions for having a good experience of the exhibition inside the Mozilla Hubs.
Make sure you have:
– a computer (NO smartphone)
– a stable connection
– a mouse
– earphones
– to have a perfect Mozilla Hubs experience, we recommend using the Mozilla Firefox browser
CADENZA
The term 'Cadenza' refers to the moment in time in a musical work when an instrumentalist or singer is allowed to improvise out of the prescribed rhythm of the music piece. Cadenza exhibits works by an international group of early innovators in the fusion of Digital Art and music. Artists include: Miao Xiaochun (Beijing), Claudia Hart (New York), Martina Menegon (Vienna) with collaborator Alexander Martinz (Vienna), Portrait XO (LA), Sophie Kahn (Australia), Ranbir Kaleka (Delhi), Matthew D. Gantt (New York), Kim Joon (Korea), Kurt Hentschlager (Austria), Tamiko Thiel (Munich), and Matteo Zamagni (London).
There is a new era beginning in XR (extended reality) for musicians who work with visual imagery and likewise for digital artists whose practice includes music. These audio-visual fusions have produced new forms in which music and art exist as one fully integrative expression. In the video based works, some of the artists translate sounds or music into a visual cacophony. Other artists work exactly the opposite, creating first the visual work and then finding sound or music to accompany it. For all the artists in Cadenza soundscapes are critical to their artworks.
The musical inspirations in these works range from popular Japanese folk music to contemporary Punjabi film scores, includeing as well classical, blues, pop and experimental sound. Cadenza offers a self-contained world where many different music types can be experienced alongside their visual manifestations. This exhibition was developed during the pandemic; many of the artists thematically investigate identity and personal responses to being in a pandemic and confinement. It is my hope that this exhibition bringing together artists and composers from around the world will provide some solace and sense of extended community in this historically challenging period.
Julie Walsh, curator
---
Artists and works
Kurt Hentschläger
New York based Austrian artist Kurt Hentschläger's artwork is interdisciplinary by nature. He has always been on the cusp of experiments in immersive art. He was one of the early innovators with his media art duo "Granular= Synthesis between 1992 and 2003. He has for many years created large scale audiovisual environments and live shows at the nexus of visual art, music and theater.
Selected presentations include the Venice Biennial, the Venice Theater  Biennial, Stedelijk Museum Amsterdam, PS1 New York, MAC – Musée d'Art  Contemporain Montréal, MAK – Museum of Applied Arts Vienna, National Art,  ZKM – Center for Art and Media, Karlsruhe, Museum of China Beijing, National  Museum for Contemporary Art Seoul, ICC Tokyo, Arte Alameda Mexico City,  MONA – Museum of Old and New Art, Hobart, Tasmania, Sharjah Art, UAE and  the Power Station of Art, Shanghai.
For Cadenza, Mr. Hentschläger debuts a new work called ST.rom This piece is one of the artist's many generative, real-time 3D animation and sound work made since 2004. When the audience enters the virtual space of darkness and fog they see a round circle. Swirls of indistinct bodies move as a mass of abstraction. The feeling generated by these shifting, swirling shapes leaves the viewer with a sense of hopelessness and confinement. There appears to be no way out for the images caught in a sphere of a zero-gravity space. The music in the piece incorporates both repeating algorithmic patterns as well as  spontaneous improvised passages. At times the sound in ST.rom is also derived from such factors as the swarm's motion and behaviors as well as changes in light and color.
---
Miao Xiaochun
One of the more influential new media artists of his generation, Miao Xiaochun was born in 1964 in Wuxi, China. He received an MFA from the Central Academy of Fine Arts, Beijing, China, graduating in 1989, before embarking on a second MFA at the Kunsthochschule Kassel, Kassel, Germany, graduating in 1999. Mr. Miao's work is included in important private and museum collections worldwide. He has exhibited extensively internationally and nationally in museums, galleries and biennials. He currently lives in Beijing and teaches at the Central Academy of Fine Arts in the Department of Photography and Digital Media.
As Mr. Miao references the canon of western art, he also explores concepts of the role of cultural and intercultural memory, often using his own figure as a key element. In Gyro Dance, Mr. Miao explores man's complex relation with technology and machines. For the piece he 3D scanned his body and then used open-source motion capture to create a series of everyday movements.These everyday movements became both surreal and absurd when they were speeded up, creating a comical and nonsensical visual effect. Mr. Miao asks the simple question, "Who are we and where is technology taking us?"
Mr. Miao is delighted to be exhibiting this work in Milan because this piece was heavily influenced by the Italian futurists. Though it shares Italian futurism's sense of movement, flow, and happening, Gyro Dance is futuristic in a broader sense; a gyro in motion not only resembles the movement of figures in the works, but also symbolizes an object within which temporal and eternal spheres can co-exist. Mr. Miao experimented with 15 different types of music to match his animations movements ultimately deciding to use  Beethoven's 5th movement. Conceptually he appreciated the contrast between this very old and timeless piece combined with the fast  hyper futuristic movements of daily life. The piece challenges the role that man and machine play in a duet through time and space.
---
Claudia Hart
Claudia Hart has been a pioneer in digital art for the last 20 years. Ms. Hart is considered an early innovator in virtual imaging, using 3D animation to make media installations and projections, then later, as they were invented, other forms of VR, AR, and objects using computer-driven production machines, all adapted from the same computer models. Many of Ms. Hart's artworks have crossed into areas of performance and live theater as well.
Ms.Hart teaches Experimental 3D at the School of the Art Institute of Chicago, where she developed the first educational program teaching simulation technologies in a contemporary-art-oriented curriculum. Ms. Hart's works are in permanent collections around the world, including the Whitney Museum of American Art, the Museum of Modern Art, and the Metropolitan Museum.
Inside the Flower Matrix is a part of a series of XR artworks reimagining Alice's world from Alice and Wonderland as an endless labyrinth. This new world is part of the Interweb. Its flashing emojis disorient you, in themselves icons of power, money, addiction, and control.  Ms. Hart's labyrinth has no minotaur, but becomes at once a symbolic internet  and as she says, "a metaphor for a model of the mind and a site of transformation. My work reflects an aesthetic of fakeness where technology has replaced nature, both sugary sweet and chemically toxic in equal measures." Ms. Hart collaborated with several musicians to create an original soundscape, working with her long-time collaborator composer  Edmund Campion, as well as cellist  Danielle DeGruttola, who improvised accompaniment as she watched Ms. Hart's video. Ms. DeGruttola worked with the vocals and lyrics created by Ms. Hart and Mikey McParlane. Ms. Hart's soundscape is as equally obsessively considered as her visuals, highlighting the possibilities that exist in this new frontier.
---
Sophie Kahn
Sophie Kahn is a digital artist and sculptor whose work addresses technology's failure to capture the unstable human body. Originally from Melbourne, Australia, she now lives and works in Brooklyn, New York. Ms. Kahn earned a BA (Hons) in Fine Art/History of Art at Goldsmiths College, University of London; a Graduate Certificate in Spatial Information Architecture from RMIT University, Melbourne; and an MFA in Art and Technology Studies at the School of the Art Institute of Chicago.
Ms. Kahn is the co-host of the YouTube channel File Exchange, and serves as a mentor with NewInc. Past residencies include the Museum of Arts and Design, New York; Pioneer Works, Brooklyn; and the Elizabeth Foundation for the Arts, New York. Ms. Kahn has exhibited her work in New York, Los Angeles, London, Paris, Sydney, Tokyo, Osaka and Seoul. Her video work has been screened in festivals including Transmediale, Zero1 San Jose Biennial, Dance Camera West, Trampoline, Frequency, Currents New Media Festival and the Japan Media Arts Festival
What happens to the human body when it is digitized and transmitted into other spaces? That is the question Ms. Kahn asks.. She has a long engagement with scanning bodies and creating 3D printed sculptures from fragmented body scan data. In her art practice she often deals with the ideas of death and technology, and is intrigued by the ways in which the 3D scanner fails to capture the human form. She also is keenly aware of the history of how the female body has been captured and recreated across time.
For this body of work, Ms. Kahn worked with Butoh dancers at Pioneer Works in Brooklyn. She instructed the dancers simply to fall as she scanned them, then inverted and sculpted the results to erase the effects of gravity. Their bodies have been dematerialized, altered, transmitted, and re-imaged. This falling is part of a particular type of Butoh training for the dancers. Ms. Kahn noted that often in these "practice falls" the dancers were bruised or scraped up. Thus she became interested in how a 3D scanned printer could capture these acts, and how the resulting figures existed in digital space.
For Cadenza, Ms. Kahn exhibits one of her Butoh dance sculptures in the main exhibition space, as well as Dematerialized: Live stream performance, a Zoom performance that occurred during the pandemic with two Butoh dancers (Azumi Oe and Sindy Butz ) and music by Jesse Perlstein. The performance was then reinterpreted into an immersive environment in Mozilla Hubs. The dancers' movements are transformed by the digital camera. The interpretation becomes ephemeral, lingering on certain specific body parts and motions. The audience is surrounded by the digital representation of the dancers in motion, unable to decide where to look as the bodies surround them in movement. The dancers then worked with a composer to add music which fit their movements.
---
Ranbir Kaleka
Ranbir Kaleka is a pioneer in new media art from Delhi who was originally trained as a painter. Since the 1980's, Mr. Kaleka's work has dealt with the vagaries of the digital and physical world. In the artist's 40 year art career, he has exhibited in museums, galleries, and biennials around the world.The recipient of the National Award by the President of India at the 22nd National Exhibition of Art in 1979, Kaleka graduated from the College of Art, Chandigarh with a diploma in painting. He received a Charles Wallace Scholarship to study art at London's Royal College of Art. Biennials and triennials include the Kochi-Muziris Biennale, FotoFest International biennale, 4th Guangzhou Triennial, the 51st Venice Biennale,Sydney Biennale, and international museums including Palazzo Madama, Turin, Italy (2021–2022); Kiran Nadar Museum of Art, (New Delhi); Hong-gah Museum, (Taipei), Tel Aviv Museum of Art, Singapore Art Museum, Museum of Fine Arts (Bern), Mori Art Museum (Tokyo) and Spertus Museum (Chicago)..
The Music Room was originally commissioned by the Mori Museum in Tokyo. The resulting video and audio fusion reflect the music of the Punjab region in India. The music itself ranges from Punjab pop,a fusion of electronic and folk music, which, once mainstreamed in Indian cinema, became a cultural signifier for a celebration.The music reflects diverse styles from the many traditions of the Punjab. including folk, sufi, and classical. At the heart of the music is a narrative for daily life, whether the birth of a child, harvesting, or a reflection on political turmoil. The visual pairings reflect the changing landscape from the rural to urban as seen by miniature or larger than life beings that peer out from a gray setting to look out magical windows and doors that show glimpses of the Punjab in a comical and vibrant tone. In this piece the music was chosen first and paired later with video.
---
Tamiko Thiel
Tamiko Thiel has been working for over 35 years as a pioneering artist in art and technology whose work explores the interplay of place, space, the body and cultural identity with a socio/political bent. Ms. Thiel was awarded the 2018 SAT Montreal Visionary Pioneer Award. Ms. Thiel was lead product designer on the Connection Machine CM-1/CM-2 (1986/1987), the first AI supercomputer and in 1989 the fastest in the world. It influenced Google's AI technology and inspired Steve Jobs' designs. Her Connection Machine design is in the collections of MOMA NY and the Smithsonian Institution.  Her MR art has been widely exhibited in museums, media festivals and biennials. She has major works in the collections of MoMA  and the Whitney as well as other international museums. In 2022 the Kunstverein Wolfsburg held a solo retrospective exhibit of her work.
Suspended Spring is an AR site-specific installation. As soon as the art viewers enter the virtual exhibition they are met by falling cherry blossoms paired with an unrecognizable melody. The song Sakura (cherry blossoms) is distorted beyond recognition. In Japan, cherry blossoms represent the beauty and impermanence of life.  Suspended Spring was created during the second spring of the pandemic, allowing anyone who had the app ARpoise to view the artwork and bring spring into their homes in a time when people couldn't leave them.
---
Martina Menegon with Alexander Martinz
Martina Menegon is a digital artist, curator, and educator based in Vienna. She is Senior Artist and Lecturer in the Transmedia Art department at the University of Applied Arts Vienna, where she teaches Digital Design and Virtuality. Additionally, she is Vice Director and Curator at the CIVA Festival for New Media Art and is the Head of Extended Reality and Curator for the "Area for Virtual Art" on behalf of sound:frame. Ms. Menegon's work has appeared in numerous international exhibitions, both online and offline, and can be found in many digital and offline collections, as well as in several permanent online spaces.
For her piece "every now and then I fall apart", Ms. Menegon partnered with sound artist and composer Alexander Martinz. Outside in the main exhibition space, the viewer encounters a rotating sculpture that is based on "glitched self-portraiture". As with all of Ms. Menegon's work, first appearances are misleading, and it is only after watching the slow rotation that a full image is revealed. In order to see the full piece, the audience must teleport into the immersive room where the artwork exists. There again, the audience is greeted by the very slowly rotating sculpture with the audio track from the song 'Total Eclipse of the Heart', which has been distorted in different tracks. Ms. Menego says that during the pandemic she obsessively listened to this song. The piece is disturbing in a masterfully visceral way.
---
Matthew D. Gantt
Matthew D. Gantt is an artist, composer, and educator based in New York City and Troy, NY. His practice focuses on sound in virtual spaces, generative systems facilitated by idiosyncratic technology, and digital production presets as sonic readymades. He worked as a studio assistant to electronics pioneer Morton Subotnick from 2016 – 2018, and has been an active participant in the international creative community, presenting or performing at spaces such as; Pioneer Works, Issue Project Room, Roulette, Babycastles, SVA Visible Futures Lab, Feral File, IRCAM, Mutek Mexico, and ICST Zurich. Mr. Gantt releases music with Orange Milk and Oxtail Recordings, is a member of New Museum's NEW INC creative incubator, and has taught experimental composition in numerous institutions. In Fall 2019, he joined the Games and Simulation Arts and Sciences (GSAS) program at Rensselaer Polytechnic Institute/EMPAC, researching spatial sound in virtual reality, telematic performance, and software simulation as a compositional medium.
Mr. Gantt has created a dizzying array of programmed objects in virtual environments that self generate their own musical landscapes.  As he says,"I am interested in the dialogue between virtual reality, 3D computer graphics and the history of experimental music and electronic sound. Just as the affordances of 3D digital environments raise questions of 'site', space, interface and embodiment, these spaces suggest resonance with composition for spatial sound, immersive audio, and questions of performance and production in digital music."
In Mr. Gantt's work Simulation IV, he questions our physical relationship to sound in virtual space. The artist calls the piece an audiovisual "sound sculpture". In this artwork, Mr. Gantt was less concerned with a narrative or theme and more interested in a kind of "material curiosity". He gets his visual images and most sounds from commercially available libraries and then repurposes them into visual/auditory compositions. In his process he creates a 3D environment in which he can connect all his sound equipment (synthesizers, samplers, sequencers, etc) to the game engine, enabling him to associate movement with sound in a generative way; certain movements will trigger certain sounds. Likewise, sounds can generate movement of the objects thus creating a feedback loop. Mr. Gantt sees the future of music containing "..new forms of music entirely, maybe an album of software that grows and changes each time you play it, or a 3D audio-visual sculpture that you might put in your metaverse space to share with friends, etc etc."
---
Kim Joon 
Kim Joon is an artist from Seoul who has a MFA from Hongik University and is currently working as a professor at Kongju National University. He became well known in the 90's for his quirky photos and videos of digitally created tattooed bodies with corporate logos. Kim Joon's work has been in numerous solo exhibitions internationally as well as biennials around the world. Though he has used digital technologies extensively this is his first virtual exhibition.
For Cadenza, Mr. Joon exhibits his piece blue jeans blue. In the work, different pairs of blue jeans and musical instruments are animated to a song by ZZTop. Each of the musical instruments is named for a different rock band from the artist's youth. Although comical in nature, the piece looks back at a time the artist can never go back to and is a sort of memento mori to his youth. In Mr. Joon's immersive room the animations surround you, beckoning you into an era long past.
---
Portrait XO
Portrait XO (she/they) is an independent researcher and artist who creates musical and visual works with traditional and non-traditional methods.  In collaboration with Dadabots (CJ Carr) they won 'Best Experiment' award at VUT Indie Awards 2021, and Eurovision AI Song Contest Jury Vote for 'most creative use of AI' in 2020.  Her development into AI audiovisual art evolved through several artist residencies from NEW NOW FESTIVAL and BBA Gallery in 2021, and Factory Berlin x Sonar+D in 2020.  She researches computational creativity, human-machine collaboration, and explores new formats and applications for forward-thinking art and sound.
In Cadenza, AIV1 is an example of a generative audio-visual composition. The piece was created in a collaboration between the Portrait XO and her AI 'other self' from the first single of her latest new AI album 'WIRE'. To create the piece, her collaborator CJ Carr from (Dadabots) fed into a custom SampleRNN model one hour of Portrait XO singing. This in turn allowed the AI or GAN (Generative Adversarial Network) to create ten hours of new audio. Portrait Xo used a GAN (or generative adversarial network) to create an audio track based on her singing, then combined with the responses of two AI models trained to randomly generate imagery based on prompts of  melting liquid, holographic waterfalls, robots and black holes. The specific inputs used for this video were images of vases combined with abstract dreamlike concepts such as melting liquid, holographic waterfalls, robots and black holes. The AI models react visually to the pulsing beat and amplitude, creating a unique audiovisual experience that is both randomly generated and aesthetically pleasing.
---
Matteo Zamagni
Matteo Zamagni is an Italian new media artist based in London. He works in visual arts, multimedia installations, film production, and electronic music, using technology as a tool to create Immersive and interactive videos, Installations and performances. His practice connects ideas of spirituality, art and science to create works that explore themes of consciousness, the body as a perceptive interface, and the expansive impact of mankind on ecosystems.
His work has been presented in exhibitions internationally including the Times Square Midnight Moment, New York, 2017; Moving Image Art Fair, New York, 2017; Gazelli Art House, London, 2016; Barbican Centre, London, 2015; and the Lumen Prize, various cities, 2016-17.
Mr. Zamagni's work for Cadenza explores the unspoken connections between science and spirituality. The abstract forms that one experiences are all generated using mathematical fractals. These fractals are derived from the natural world we live in. Mr. Zamagni is interested in connecting macro and micro scales in the universe  and in the intersections of levels of consciousness.
The music in nature abstraction was created by Daniel Ben Hur. He used software (Abelton) to create music after seeing the 360 visual piece. Mr. Hur  developed the sound track using binaural beats technique, feeding into the left and right ear two different frequencies which combine in the listener's mind to create the actual frequency she experiences. With this sound design, both Mr. Hur and Mr. Zamagni wanted to facilitate states of relaxation and to induce specific states of mind associated with deep meditative states.
​