Post
Morihiro Harano 05/03/2013
Morihiro Harano
05/03/2012 ore 19.30
Mediateca Santa Teresa – via della Moscova 28, Milano
Talentuoso direttore creativo, noto pubblicitario di Tokyo, Morihiro Harano ha già raggiunto risultati stellari non solo nell'advertising, ma nello sviluppo di new business, in strategie e product design, in iniziative mediali. Nel 1994 entra a far parte del team di Dentsu – una delle maggiori agenzie pubblicitarie giapponesi – dove si occupa delle iniziative e delle campagne digitali.
Il suo approccio alla pubblicità infatti vede nel digitale la cifra di un nuovo linguaggio. All'interno di Dentsu lancia Drill, un'agenzia creativa non convenzionale e nel 2011 dà vita, come co-fondatore, a una sua propria agenzia, Party che nel 2012 vince l'Indipendent Agency of the Year, Gran Premio di Spikes Asia, uno dei maggiori riconoscimenti asiatici. All'estero ha inoltre ricevuto il "TED: Ads Worth Spreading 2012", il "D&AD Yellow Pencil" e il "Gold Cannes Lion"al Cannes Lions Festival of Creativity.
Creative Director / Founder di Mori Inc., attualmente è inoltre membro di "D&AD", "NY ADC" e insegna alla Waseda University.
Tra i suoi lavori: "NTTDocomo: Xylophone", "ToyToyota: Backseat Driver" e "Menicon: Magic".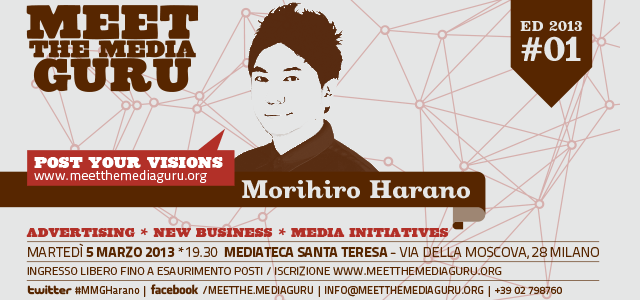 ​