Post
Geoff Mulgan 04/04/2013
Geoff Mulgan è considerato uno dei policy maker più innovativi d'Europa.
Il suo nome è legato alla nascita e allo sviluppo di due importanti enti privati inglesi che si collocano a metà strada tra charity, think thank  e social investor: la Young Foundation – che ha diretto dal 2004 fino al 2011- e il National Endowment for Science, Technology and the Arts  (Nesta) di cui è attualmente CEO.
Young Foundation e Nesta stanno diventando un punto di riferimento importante per tutti coloro che si propongono di stimolare "social innovation", ovvero progetti per risolvere i bisogni della contemporaneità che attivino collaborazione e partecipazione sociale. Un obiettivo che può ora far leva in modo significativo sulle opportunità offerte dalle nuove tecnologie digitali.
In precedenza, Geoff Mulgan ha avuto numerosi incarichi pubblici ed è stato Director of Policy e direttore dello "Strategy Unit" del governo di Tony Blair, ha fondato e diretto il centro studi Demos ed è stato reporter per la BBC, ha fatto altresì parte del board della Work Foundation, dell'Health Innovation Council, della rivista The Policy Quarterly, del Design Council ed è stato presidente di Inolve, istituzione del governo inglese -quasi unica nel panorama mondiale – che mira a coinvolgere i cittadini nella ricerca medica.
Geoff Mulgan è visiting professor presso la London School of Economics, l'University College London e la Melbourne University, oltre ad insegnare regolarmente presso la China Executive Leadership Academy, uno dei 4 principali centri di eccellenza in cui si stanno formando i futuri dirigenti cinesi.
È autore di numerosi libri tra cui: The Art of Public Strategy – Mobilising Power and Knowledge for the Public Good (OUP, 2008), Good and Bad Power: the ideals and betrayals of government (Penguin, 2006), Connexity (Harvard Business Press, 1998).
A febbraio del 2013 è uscito il suo ultimo saggio The Locust and the Bee per la Princeton University Press. Grazie a Societing, in Italia è stato tradotto ed è liberamente scaricabile il  "Libro bianco sull'innovazione sociale" che Mulgan ha scritto con Robin Murray e Julie Caulier Grice.
Geoff Mulgan è attualmente presidente anche dello Studio Schools Trust e dell'associazione internazionale Social Innovation Exchange, un network di oltre 5000 persone impegnate a promuovere la formazione e lo scambio di best practice in tema di innovazione sociale.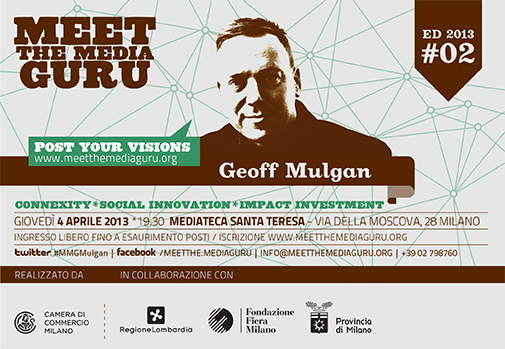 ​