Post
Future ways of living: Hiroshi Ishii
Ai blocchi di partenza per la decima edizione di Meet the Media Guru.
Primo appuntamento di un programma dedicato al grande tema Future ways of living vedrà protagonista il pioniere Hiroshi Ishii, professore di Media Arts e Sciences al MIT Media Lab, dove è alla guida del gruppo Tangible Media. Dopo gli studi in ingegneria elettronica e un Dottorato in computer engineering presso l'Hokkaido University in Giappone.
Dal 2006 fa parte della CHI Academy, gruppo onorario di professionisti che si sono distinti per il loro contributo nel campo della Human Computer Interaction.
La sua ricerca si concentra sull'uso di interfacce di facile utilizzo, che permettano la connessione tra l'uomo, le informazioni digitali e l'ambiente fisco; le cosiddette seamless interfaces. L'obiettivo è trasformare i painted bits dell'interfaccia grafica utente (Graphical User Interfaces) in tangible bits, dando una forma fisica alle informazioni digitali.
Le visioni del professor Ishii e il suo team hanno dato forma a numerose design di interfacce e installazioni presentate in diversi contesti dall'ACM Siggraph all'Ars Electronica, dal Centre Pompidou al Salone del Mobile e sottolineando così come lo sviluppo di interfacce reali richieda un rigore scientifico, ma anche uno sguardo artistico.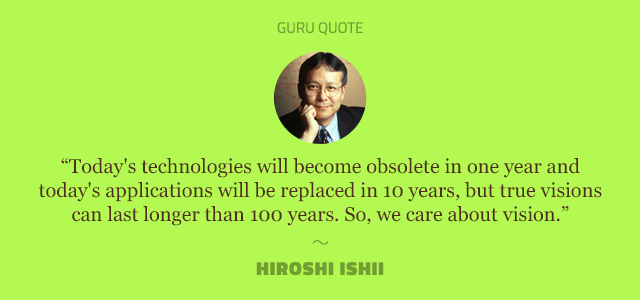 Fin dagli anni Novanta, Ishii lavora su come l'uomo interagisce con la tecnologia dando vita a un luogo di lavoro seamlessly, cioè un ambiente che tenda a integrare senza interruzioni il gesto e l'azione della macchina.
Nel 1995 approdato al MIT, crea il Tangible Media Group con cui prosegue la riflessione sulla Human Computer Interaction. 
La ricerca Tangible Bits, realizzata nel 1997, ha l'obiettivo di dare una forma fisica alle informazioni digitali, in modo che il mondo dei bits e quello degli atoms si incontrino e interagiscano senza soluzione di continuità. (Questo non vi ricorda le riflessioni portate avanti da Keiichi Matsuda?)
In Tangible Bits il gruppo si scontra con la difficoltà di rappresentare la "fluidità" dei bit attraverso la "rigidità" data dalla tecnologia. Per superare questi limiti, nel 2012 nasce Radical Atoms, che approfondisce il tema dei TUI  trasformando gli elementi cinetici e fisici degli oggetti in informazioni digitali.
Queste riflessioni pionieristiche così come i numerosi altri progetti sviluppati, trovano una sintesi poetica nell'installazione Transform presentata al Salone del Mobile 2014 di Milano in cui gesto, musica e forme geometriche interagiscono dando vita a un'esperienza che incuriosisce lo spettatore per avvicinarlo a un tema che, seppur tecnico, non deve rimanere limitato agli addetti ai lavori.
Dopo averlo incontrato ad Ars Electronica, siamo rimasti colpiti dal suo approccio radicalmente tendente al futuro e vi invitiamo a scoprire con lui, nell'incontro del 23 febbraio, i prossimi 200 anni.
Appuntamento presso la Mediateca Santa Teresa, il 23 febbraio. Le iscrizioni apriranno la prossima settimana ma potete iniziare a scaldare i motori seguendo l'hashtag #mmgISHII.
​