Post
Chatbot e vocal interfaces. Il messaging alla Mailup conference
Meet the Media Guru partecipa alla MailUp Marketing Conference in qualità di content partner. Martedì 12 dicembre alle ore 17.30 a Palazzo Mezzanotte (piazza degli Affari 1, Milano),  il direttore di Meet the Media Guru Maria Grazia Mattei coordinerà il panel parlando dei futuri scenari del messaging tra intelligenza artificiale e big data.
Il tema "Il futuro del messaging" rientra in quell'area del digital su cui big data e intelligenza artificiale interverranno in modo decisivo, rivoluzionando il quotidiano di consumatori e cittadini. Mattei esplorerà il passaggio verso nuove regole e paradigmi comunicativi. Un "approccio umanistico" necessario alle pubbliche amministrazioni e alle imprese attraverso cui passerà la nascita di nuovi servizi human interaction-based.
A dialogare con Mattei saranno Ale Agostini
, partner e direttore Bruce Clay Europe; Sergio Spaccavento direttore creativo Conversion Milano e Giuseppe Rizzo, 
Senior Data Scientist ISMB.
Meet the Media Guru ha già guardato a questo tema nel giugno scorso con Mark Curtis, co-fondatore e direttore di Fjord, con cui abbiamo affrontato il tema dei chatbot e delle vocal interfaces. Per chi volesse saperne di più, consigliamo di vedere la lecture di Curtis.
Per avere un'anticipazione dei temi toccati durante il panel, è online l'intervista a Maria Grazia Mattei.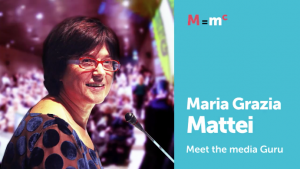 La MailUp Marketing Conference prevede un'intera giornata di riflessioni e dibattito sul futuro di tecnologie, potenzialità e strategie di Digital Marketing.  Fra i temi in agenda, le strategie data-driven, branding e custumer journey. Per saperne di più, visita il sito della conferenza.
La foto in apertura è tratta da Flickr | James Royal-Lawson
Meet the Media Guru è realizzato in partnership con Fastweb, Artemide, Fondazione Fiera Milano, con il patrocinio di Comune di Milano, Regione Lombardia e Fondazione Cariplo e la collaborazione di Institute without Boundaries | George Brown College – Toronto.
​