Post
:REWORLD | The artists
on show
:REWORLD follows the investigations of artists such as Wassim Alsindi and 0x Salon, Kat Austen and Fara Peluso, Samira Benini Allaouat, Felix Gaedtke, Josef Hovadik, Studio Lapatsch | Unger and Studio Johanna Schmeer, Studio Above & Below, and Sissel MarieTonn.
They are working in domains such as immunology, biomaterials, the crypto economy, speculative design, and cultural critique, with a variety of technologies and material languages, and invite us to experience the potential of connective, entangled sets, and the unresolved forms of new realities.
Geo-Llum
SAMIRA BENINI ALLAOUAT (2022, in progress)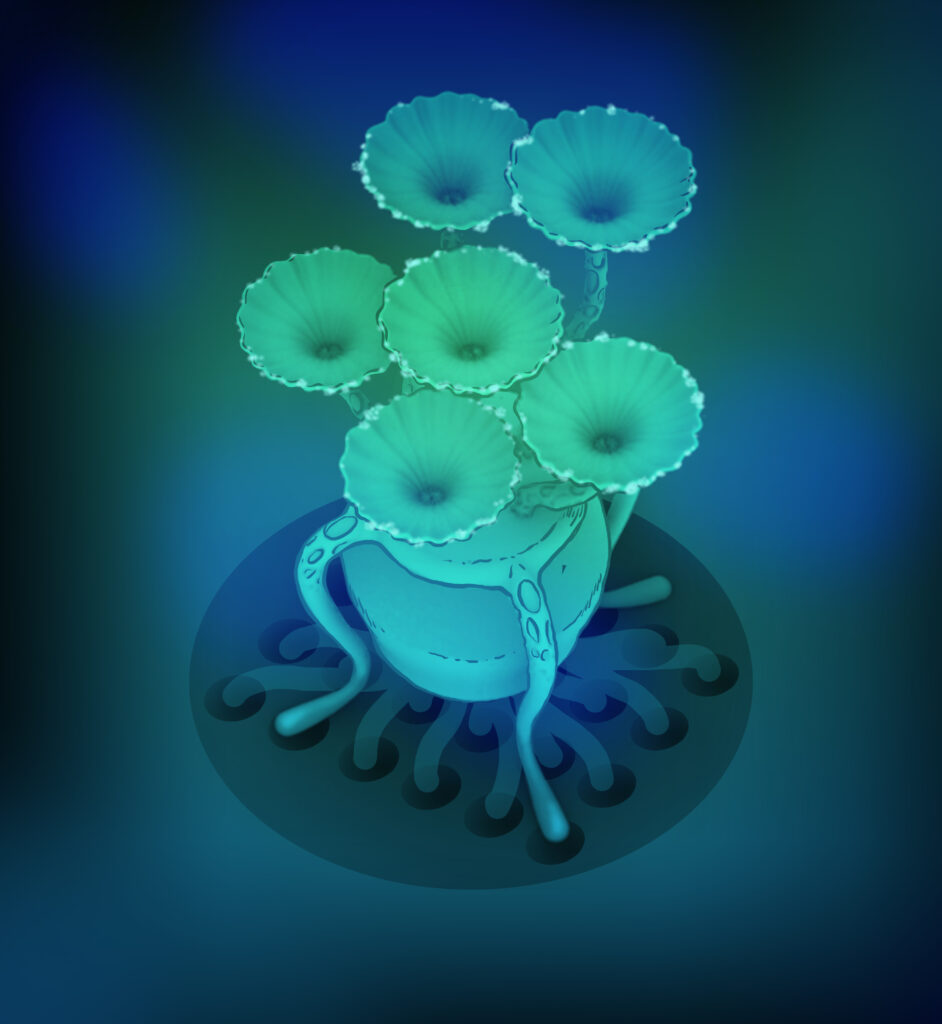 Samira Benini Allaouat is a trans-disciplinary artist, fascinated by old technologies and knowledges with new contemporary applications. She also uses maker and DIY philosophy to question stereotypes, social behaviors and systems, exploring paths of bending and blending elements, researching and testing low-tech solutions to build a more resilient future perspective. Coming from a 25-year-long background in radical urban art and moving image design, her favorite medium is the city. She has achieved international recognition through a large number and different typologies of performances, exhibitions, publishing projects and events under different pseudonyms, as well as anonymously. Her project Geo-Llum aims to reimagine the role of public lighting in green urban areas through a symbiotic relationship between the artificial and the natural world, focusing on a deeper understanding of the microorganism community as fundamental collaborators in the city's ecosystem. Geobacters are the bacterias she has collaborated with, amongst others, because of their strong capabilities of creating free electricity, while bio-remediating contaminated soil. The scientific photographs presented in light boxes here offer close views of these microorganisms and their specific assemblage, allowing us to observe their dynamics and collective structure. Geo-Llum was developed in the framework of Microorganism Cities, a residency hosted by CCCB and launched together with Sonar and the Polytechnic University of Barcelona. The project is part of the first bioremediation pilot program of the city of Barcelona, and was developed in partnership with and Green City Lab Barcelona and Akasha Hub, in Hort del Clot. The residency responded to the challenge of how to integrate microorganisms to design more sustainable cities.
---
Ouroboros
KAT AUSTEN AND FARA PELUSO (2022, in progress)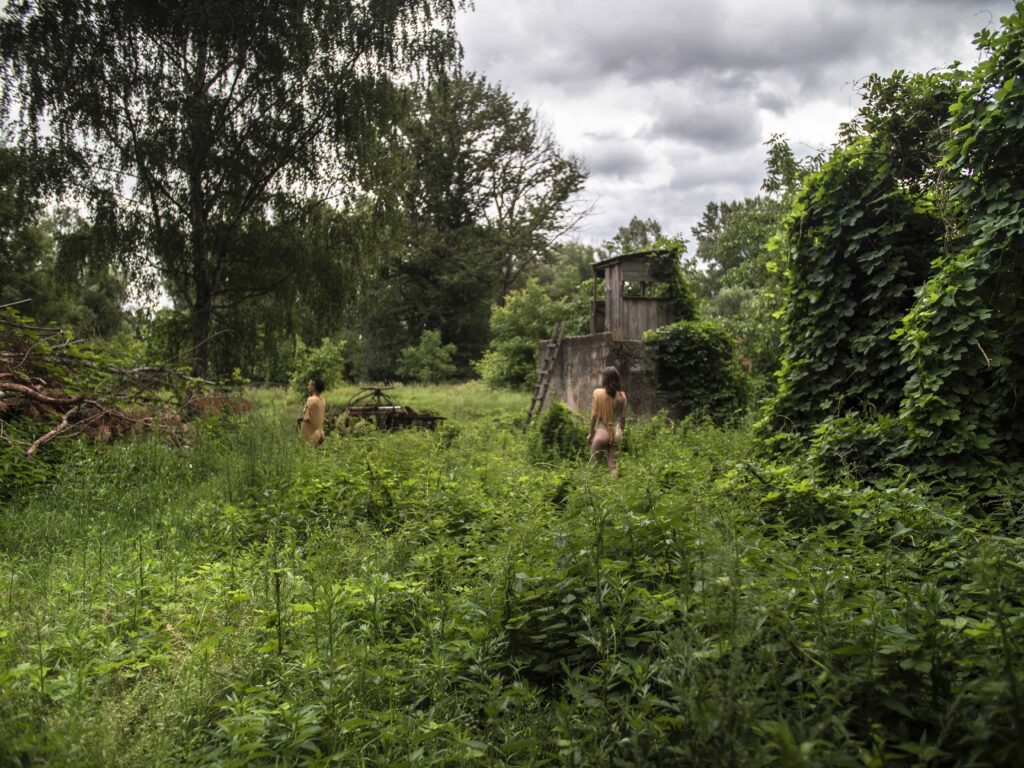 Kat Austen creates new media installations, music and performances underpinned by extensive research and theory that elaborate a more socially and environmentally just relationship with others across more-than-human timeframes. Fara Peluso is an artist and designer who seeks to deepen the relationship between human beings, living organisms and biological processes. Through their collaboration, Austen and Peluso propose alternative strategies to rebuild our coexistence with nature. Their work Ouroboros speaks to the cyclical nature of the material and of human relationships with the environment. The 'ouroboros'—a circular, mythological snake—is known as a symbol of renewal and rebirth, the emblem of chaos around a world of imposed order. At a time when industrialised activity exerts order on the planet, climate disruption brings a global supra-human chaos to human-centric existence. Addressing the potential of bioplastics against petrol-based materials, Ouroboros highlights the synergy between new materials and new aesthetics for sustainable futures. the installation incorporates bioplastic material grown from algae, fulfilling not only the circular aim of leaving no trace, but also that of fostering lushness through its production—itself an emblem of the process of renewal and rebirth. In video form, the material is juxtaposed through bodily movement in a landscape transitioning from extraction. The sculptural form animates the material in two ways – as a "living" creature and as a rotating record – drawing a link between the variety of material properties possible and the circularity of the concept and materiality of the work.
---
Berlin 2037
FELIX GAEDTKE (2022, in progress)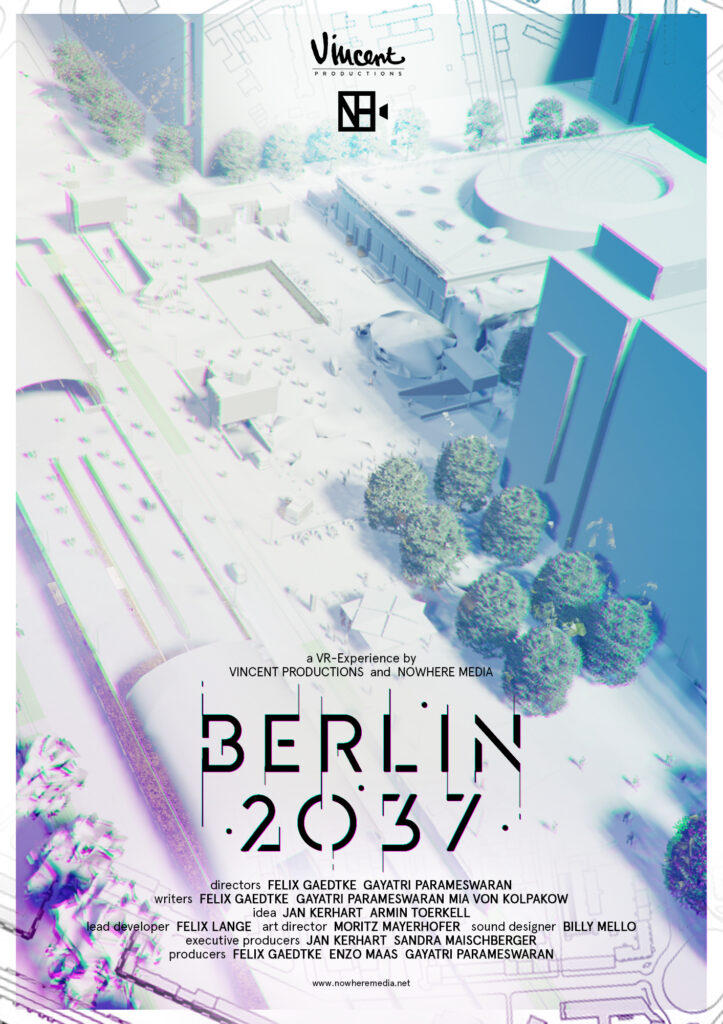 Felix Gaedtke is an award-winning immersive storyteller and creative producer currently based in Berlin. He co-founded the immersive storytelling studio NowHere Media with an urge to create spaces for under-represented voices in mainstream discourses, and works with VR and AR storytelling techniques as a means to convey different realities across the world. He is a Sundance New Frontier alumnus, and his work has been awarded the 'Best Use of Immersive Arts' at SXSW as well as the Lumiere Award for 'Best VR documentary' among other accolades. Berlin 2037 is a multisensory cyber-physical installation exploring future possibilities of accessible urbanism and mobility infrastructure. Through a fictional narrative experience, visitors meet 14-year old Maya, a computer and 3D animation nerd living in Berlin who recently broke her wrist when a truck knocked her off her bike in heavy traffic. Determined to use her digital skills to transform her city, Maya sets herself a mission to create a virtual version of her Berlin; a version that is child-friendly, safe and sustainably-sourced. The work combines large-scale photogrammetry scans of contemporary Berlin with imagined, futuristic CG animations to experience the look, sound, smell and feel of a city built with sustainable energy and housing. Berlin 2037 is realised by NowHere Media and Vincent Productions and produced in the context of the New Modes of Mobility residency hosted by STATE, a S+T+ARTS Regional Center with the support of BMW Foundation Herbert Quandt.
---
Cyprus Vital Signs – A Journey to Enchantment
JOSEF HOVADIK (2022, in progress)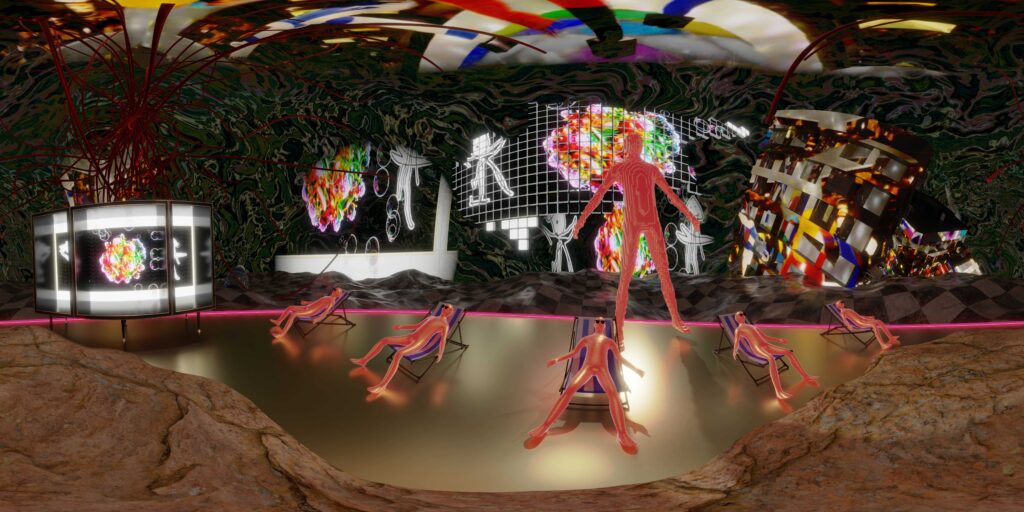 Joseph Hovadik is a French-born, Guatemala-based visual artist with a background in geology, data science and art. He works in a wide range of styles and media which include painting, works on paper, prints, digital media and datasets. His artmaking can be playful and inconsequential, or explore dark and humorous takes on the multiple concurrent global crises. Cyprus Vital Signs – A Journey to Enchantment aims to raise awareness on the impact of human activities on the island of Cyprus, investigating the socio-environmental repercussions of local tourism by inspecting, describing, transforming and narrating data generated by tourist activities. The work is composed of 10 video animations and a 360-video experience conveying the histories and the reality of the socio-environmental crisis. Unfolding as a polyptych voyage towards an enchanted reality, the work is based on digital and physical datasets which are analyzed, presented, and interpreted through a somewhat kaleidoscopic gaze. Scavenged by autonomous algorithms, hyperlocal and general datasets left behind by tourists are read as socio-environmental indicators and compiled into a daily report, while an open-source and continuously updated website makes available all the resources that continuously inform the project. The work culminates with a synergistic hi-tech/low-tech printmaking process, shifting the gaze from the deluging instrumentalization and the mega-views of our world towards the landing on an enchanted earth, the restoring of distance between objects, and the awakening to a new future-preserving cosmology.
---
Bodies of Water
Studio Lapatsch | Unger and Studio Johanna Schmeer (2022, in progress)
Anja Lapatsch and Annika Unger are Studio Lapatsch|Unger, a design duo based in Berlin, whose work researches material cultures and cultural phenomena revealing layers of knowledge between the past, the present and the future resulting in critical reactions and envisions of future scenarios within historical, ecological and cultural contexts. Johanna Schmeer is a designer and interdisciplinary researcher based in Berlin and design professor at Folkwang University of the Arts. Her inquiry-based work explores technologically augmented ecologies, industrial flows of matter, and the reframing of the human within its interspecies, geospatial, and technosocial entanglements. Bodies of Water is a geohydrological investigation into Berlin's regional groundwater systems, which provides almost 100% of the city's drinking water. Reflecting on the flow of water that circulates in and out of human bodies, the project explores the complexities that lie beneath the city, providing artifacts that allow for a new perspective onto the impact of geology on human life. The first part of the project interprets the data of two-dimensional geological sections of the city and translates it into sculptural glass vessels, conveying the three-dimensional shapes of Berlin's groundwater reservoirs. The second part gives an insight into the aquifers beneath the earth's surface, focusing on the water-bearing permeable rock that filters particles and bacteria, and provides natural purification of groundwater. The artwork gathers specific rocks from the geological layers beneath the city and uses it to transform the mineral quality of other locations' waters into that of Berlin's, allowing one to access local water specificities through ingestion, sensing and tasting, and temporarily transpose into the local aquatic environment.
---
Entangled Landscape
STUDIO ABOVE & BELOW (2022, in progress)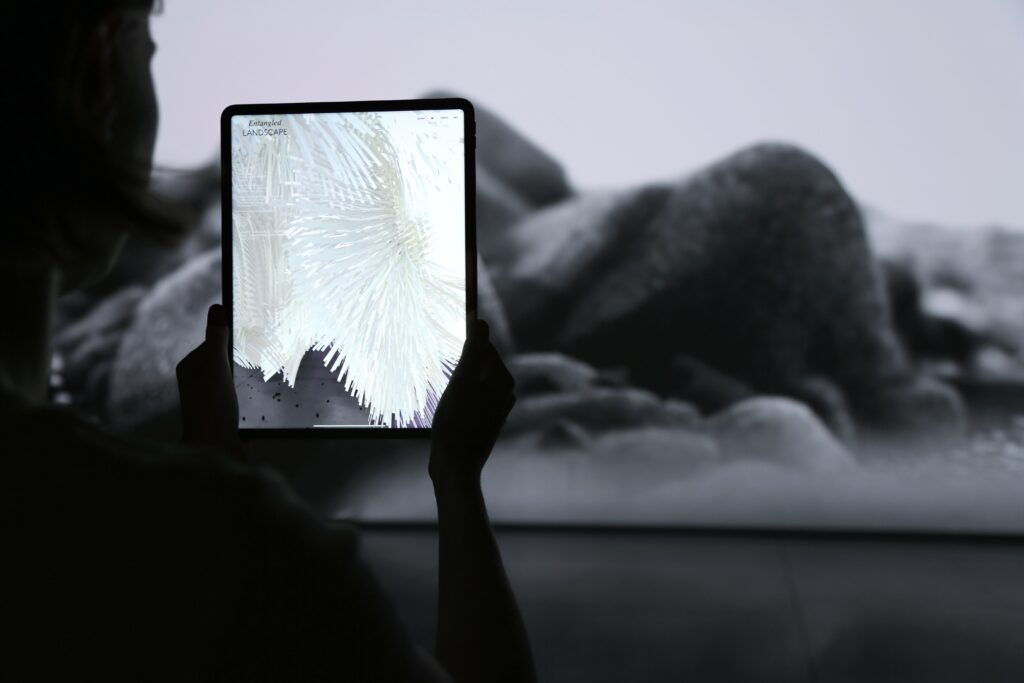 Studio Above&Below is a London-based art and technology practice founded by artist duo Daria Jelonek and Perry-James Sugden. Their work combines digital art and data in order to draw together unseen connections between humans, machines, and the environment. Combining research and generative systems, their practice uses AR, XR and AI to create innovative artworks and data sculptures which push the boundaries of digital media for future living and environmental awareness. Entangled Landscape is a meditative mixed reality experience augmenting invisible collaborative life of soil in the form of a digital sculpture. The artwork focuses on bringing visibility and awareness to the networks and exchange of resources occurring in soil at a microscopic level, investigating mutualistic and collaborative behavior across different industries, natures and cultures. It materialises into an audiovisual installation which allows the audience to encounter two neural networks trained on mutualistic interactions, inspired by mycorrhizae and nurtured through environmental live data from the South West Flanders area in Belgium, which enables or disables their collaboration. The project is the result of an art and science collaboration between soil scientists, city planners, data analysts and games engine experts exploring themes such as soil sealing, soil biodiversity, mutualistic behavior between fungi and roots, and computational Machine Learning simulation systems.
---
The Sentinel Self
SISSEL MARIE TONN (2022, in progress)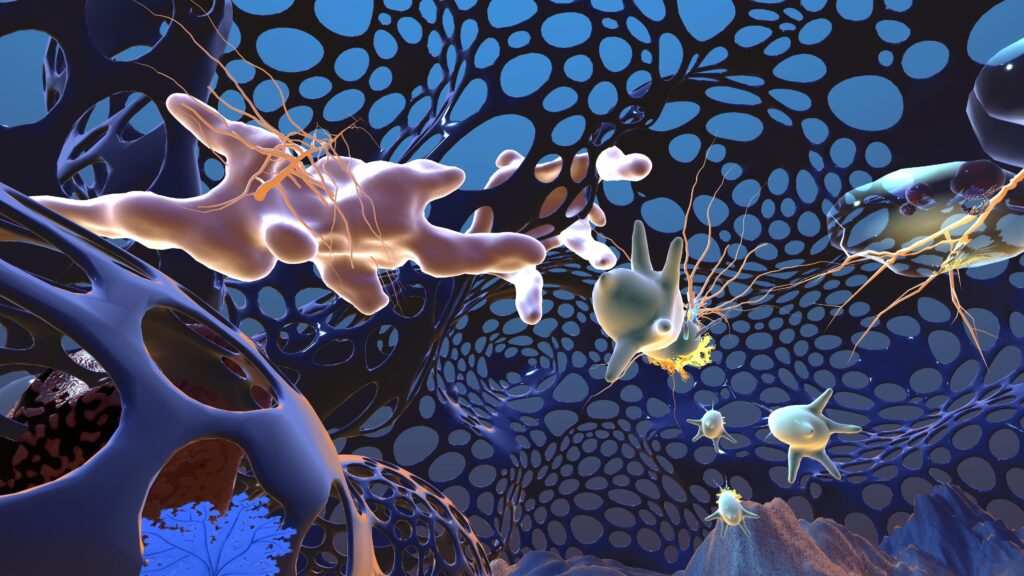 Sissel Marie Tonn is a Danish artist based in The Hague. In her practice, she explores the complex ways humans perceive, act upon and are entangled with their environments. Her work centers around moments of awareness and shifts in perception, where the boundaries between our bodies and the surrounding environment begin to blur. Tracing and capturing these moments often result in hybrid, interactive installations and objects, where the audience is invited to engage in a sensory and participatory way with the stories and data at hand. Sentinels are the name given by environmental scientists to organisms whose sensitivities to environmental change help to understand the health and vulnerability of an ecosystem. The study of sentinel organisms in the world's oceans has helped understand the effects of microplastic pollution, but recent research has shown that microplastic pollution is also found within human bodies, suggesting that humans have joined the ranks of the sentinel species to our global plastic addiction. The Sentinel Self is an immersive artwork that spans across multiple scales of an aquatic world, inhabited by human-like beings who share a common environment between the outer and inner seas of their bodies. This is realised as a real-time simulation inspired by the human immune system, as well as recent scientific work on possible immune reactions to microplastics in our blood. The work is narrated by an interactive storyteller whose story changes as the audience can input their own heart rate. As the simulation evolves, this inner world is transformed by flows of microplastic particles. The audience becomes witness to a blurring of the boundaries between earthly and bodily oceans, alluding to the reality that humans do not only transform the world, but that the world also transforms us in return.
---
The Art of Indifference: The Immaculate Misconception
WASSIM ALSINDI & 0X SALON (2022, in progress)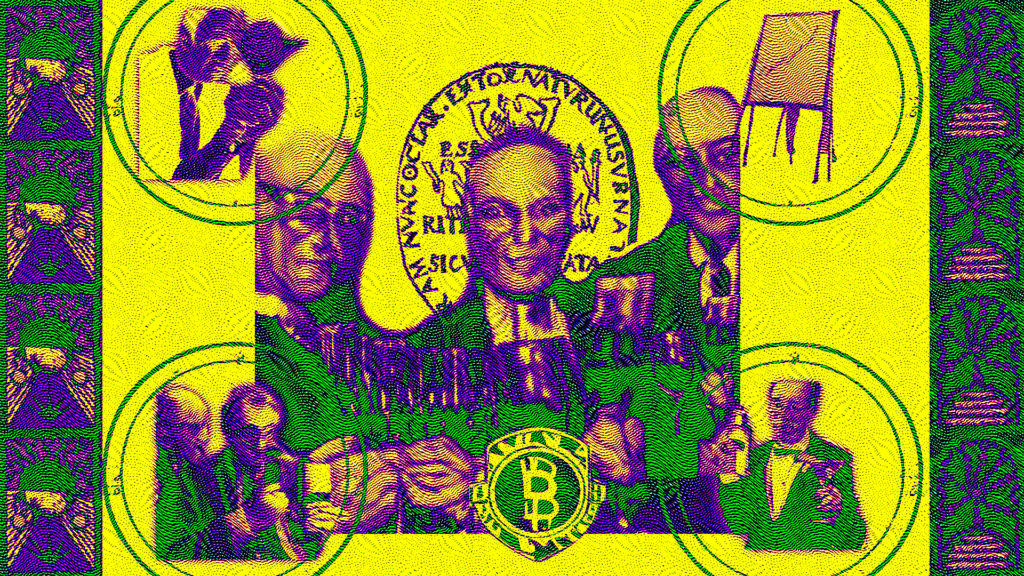 Wassim Z. Alsindi is the founder and host of the 0x Salon, an ongoing, non-profit experiment in collective knowledge sharing and cultural production who critically interrogate digital culture through discourse events, residencies and scholarly and creative interventions. He specialises in conceptual design and philosophy of peer-to-peer systems, on which he writes, speaks, teaches, and consults. He has an editorial column at the MIT Computational Law Report, and he co-founded MIT's Cryptoeconomic Systems journal and conference series. He has curated arts festivals, led a sculptural engineering laboratory and published experimental music, improvisatory theatre, poetry, and speculative scripture. He holds a Ph.D. in ultrafast supramolecular photophysics from the University of Nottingham. Through a participatory game and a satirical play, The Art of Indifference is a twofold project that interrogates the environmental implications of cryptocurrencies, set in a dystopian future that stretches the contemporary tensions between capital and ecology in the current scarcity-based global economic regime. The work unfolds as a fictional narrative, where formerly 'failed' states make Bitcoin their official currencies, as volcano-powered energy makes them the richest nations on Earth, and eco-conscious activists start rising against mining farms. The Immaculate Misconception composes the first part of the work, and materialises in an interactive storytelling environment inspired by pre-internet gamebooks, where participants make a series of policy decisions over time as Bitcoin proliferates and global sea levels rise. The second part of the work acquires a performative dimension through The Black Hole of Money, a fictional, performative literary piece set in the year 2040 which satirises Bitcoin's ecocidal growth through human and AI characters and a shapeshifting blackhole.
​