Post
MtMG to host Victor Perez at Milano Film Festival
It is a known fact that Meet the Media Guru and cinema have a lot to share: how can we forget the events with Academy Award winners Francis Ford CoppolaandJohn Lasseter in 2015 and 2011, respectively?
This year, for the 22ndedition of the Milano Film Festivaland with the support ofAVFX-Associazione Effetti Visivi, we organised an evening at MtMG with Victor Perez, a Spanish director and forerunner of visual effects, including compositing.
On Friday 6 Octoberat 7 pm at the BASE Milan facility (via Bergognone 34), Victor Perez will present a national preview of his latest film,Echo; the trailer of the film is available at the link at the bottom of this page. The film was made using acutting-edge motion control technologybased on syncingtwo motion control rigs, the arms portrayed in the picture below, more specifically the massive Cyclops® and the more versatile Bolt®. The two machines filmed at the same time in only five takes. Then, the crew worked to create a mirror effect, which is also the narrative key to the whole plot.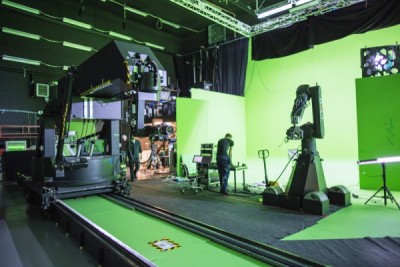 Starting from his latest work and "zig-zagging" across his 25-year career featuring collaborations with such productions as Rogue One: A Star Wars Story, The Dark Knight Rises andHarry Potter and the Hallows of death, Victor Perez will take us on a journey to discover the latest visual effects in Italy and abroad. The evening will provide the opportunity to explore the potential of latest digital technology to later discuss the new creative languagesmodern cinema must come to terms with.
​