Post
Giorgia Lupi's lecture: pictures and videos
The embrace the Meet the Media Guru community reserved Giorgia Lupe could not have been warmer. Last 5 July over 500 people stood orderly in line to attend the meeting with the Emilia-born, New York-based artist and information manager. The large BASE hall in Milan filled up quite rapidly with a very diverse crowd, from students to young practitioners, journalists and designer from Italy and abroad, curious to explore the world of Big Data through Giorgia's eyes.
WE ARE DATA. @giorgialupi e la platea piena di @mmguru #meetlupi #basemilano #meetlupi #BigData pic.twitter.com/cZ9IsUjN5o

— basemilano (@base_milano) 5 luglio 2017
"I have a passion and obsession with data" said Lupi to break the ice. Her speech was an invitation to stand boldly in the face of huge amounts of numbers and algorithms that silently threaten our lives, but to "forget" them and let the story they tell come to the surface. The designer called this anthropocentric vision Data Humanism. Imperfect, partial and subjective, data are a way to portray reality, though they should not and must not pigeon-hole it. "Blur the boundaries" urged the speaker, as boundaries should not be too definite and "engineer-like" rigidity should be deserted.
The evening hashtag – #meetLupi – immediately became a trending topic, collecting tens of tweets from the audience in the room and people connected through streaming on Facebook.
#humandata not only #bigdata #meetlupi pic.twitter.com/rn2YcK0kaQ

— Stefano Gatti (@Micio1970) 5 luglio 2017
During the very lively and entertaining speech, Giorgia Lupi outlined some of her projects, starting with the most renown Dear Data, which consisted of a year-long experiment where she collected numbers and data concerning the most personal sides of her daily life. These data have become hand-drawn diagrams and infographics and were later sent to her pen pal Stefanie Posavec in the form of a postcard. This authentically analogue project on small data was included in the MoMA's permanent collection.
#humandata not only #bigdata #meetlupi pic.twitter.com/rn2YcK0kaQ

— Stefano Gatti (@Micio1970) 5 luglio 2017
Lupi gave some additional info on some of her recent work, including her collaboration with musician Kaki King, a "four-handed" multi-media project using data visualisation to de-construct music and reveal the true essence of it. This visualisation exercise detects the most evident elements of melody, as well as some hidden characteristics, such as hand movement, touch and the fingers in a surprisingly poetic composition:
Le #note come dati che prendono vita. Poesia dei #BigData!
Questo ci sta facendo vivere @giorgialupi a #meetLupi live a @base_milano pic.twitter.com/RhQc2EoAW0

— Matteo Camporeale (@CamporealeM) 5 luglio 2017
For those who could not attend Giorgia Lupi's event, service designer Alice Colombo summarised the speech in this fantastic (and unexpected) visual recap: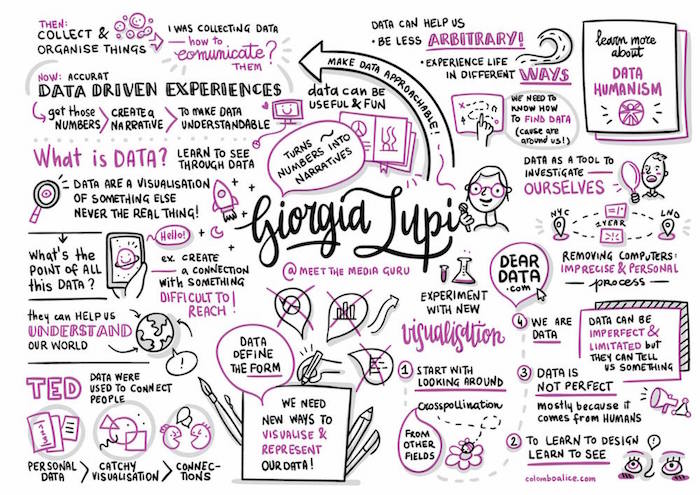 And for those who'd like to experience the feeling of the evening, some pictures were shot during the event. Here are some of them; the full album is available here:
Meet the Media Guru is organised in partnership with Fastweb, Artemide, Fondazione Fiera Milano, under the patronage of Regione Lombardia and Fondazione Cariplo and in collaboration with Institute without Boundaries | George Brown College – Toronto.
​