Event
Zero Gravity Evolution | Yoichiro Kawaguchi
The worlds made by Yoichiro Kawaguchi are inspired by nature, created through generative art algorithms. One form in turn generates others in a game of metamorphosis and continuous evolution of expression and color.
We open on Wednesday, Nov. 22 at 6:30 p.m. the solo exhibition of Kawaguchi, a pioneer who was among the first to experiment with all avant-garde technologies, including high resolution. His nature is made up of dreamlike, ancestral elements and in this very much reflects Japanese culture where the relationship with technology is neither foreign nor hostile.
***
Inside the Immersive Room, Xenion, Kawaguchi Yoichiro's work created in 2003 that aims to reach higher levels in the creation of artificial life forms using computer simulation with the texture of liquid metal, will be usable. Like the skeletal system of a huge dinosaur's body, the work shows Kawaguchi's imagination of the inner universe of the living body that constantly changes form. In addition, images are presented with higher definitions to show the metallic structure of the surface. In addition to colorful computer graphics, Kawaguchi uses silver-colored geometric shapes that reveal futuristic abstract beauty.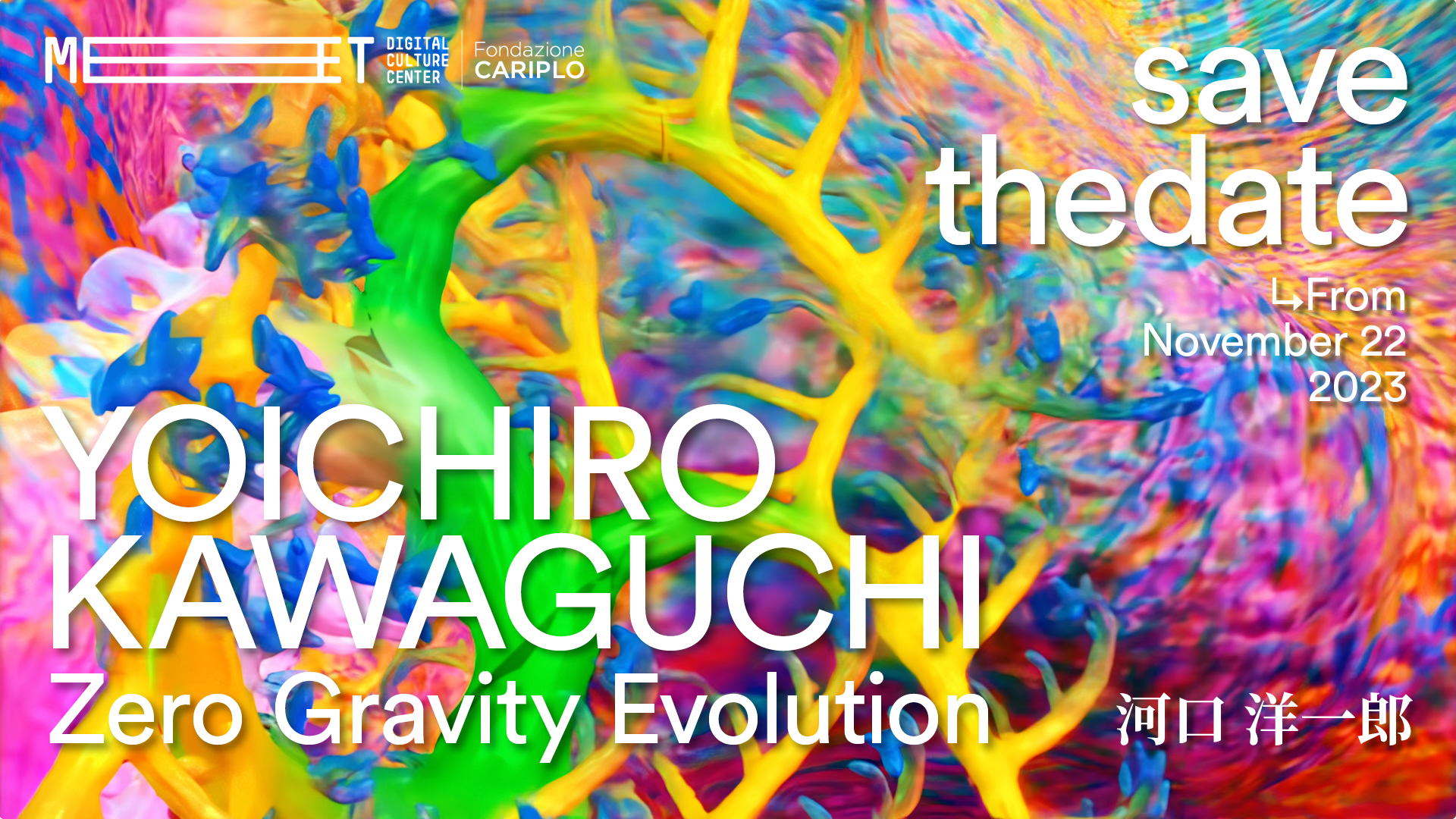 Yoichiro Kawaguchi
Japanese born in Kagoshima
Professor Emeritus of the University of Tokyo
Director of Kirishima Open Air Museum Kagoshima Japan
Chairman of Digital Content Association of Japan
In 1975, he began creating black and white graphic works using computers.
At ACM-SIGGRAPH 1982, Yoichiro Kawaguchi's original programming work "Growth Model" was presented. The packed audience was so shocked by the beauty of his work that they gave him a standing ovation. He made a spectacular world debut.
It received high praise as a new modeling method derived from algorithms for the growth and evolution of the shapes of animals and plants in the natural world.
At the same conference in 1983, his unique fresh and sensual expressions shocked the world even more.
The artistic expression of the "Growth Model" in which shapes grow in complexity while self-replicating through programming, presents to the world a new concept of art that self-organizes within a computer.
Siggraph Academy honored his many years of work with The Algorithmic Revolution In Visual Art and Professor Kawaguchi's achievements.
5.5K Artist exhibited in the digital Art shows with 50 times of Siggraph record.
Kawaguchi is the No2 Artist by number of artworks.
He was selected by the nation as a Person of Cultural Merit for overturning the common sense and concepts of CG, greatly expanding its possibilities, and being involved in the development of ultra-high-definition image expression technology, and greatly contributing to the promotion of media arts in Japan.
​