Event
VR Aperitif | The Moon
Astrophiles, devourers of series dedicated to Space and fans of science and technological adventures: this appointment is for you! We have prepared many immersive and space experiences for you!
Are you ready to board the spacecraft that will take you to the Moon?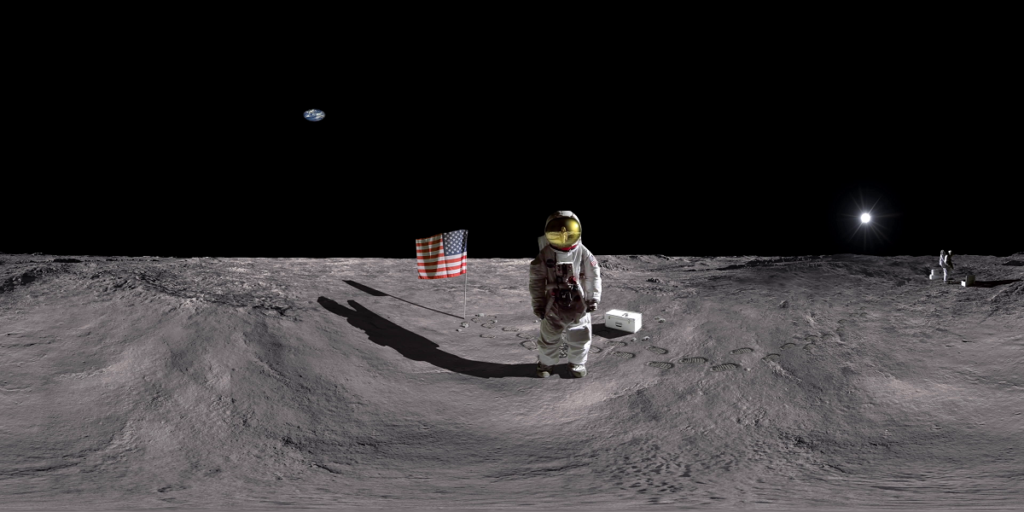 At 6:30 p.m. we will meet Noemi Forti, author of Moondust, a moon landing-themed short film made when she was a student at the Civica Scuola di Cinema Luchino Visconti. Moondust is about the experience of the quarantine of the three Apollo 11 astronauts: while the world, with its clamor and expectations, presses out of the porthole of the air stream, Collins, Armstrong and Aldrin find themselves projected into the still fresh and intrusive lunar memory, which leaves them suspended in limbo between Earth and Moon.
The meeting with the author will be followed by a viewing of the short film, but the journey of discovery of our satellite continues with three other immersive experiences:
Moon Landing VR 360: Virtual Reality video produced by VIS – Virtual Immersions in Science, a spin off of the Scuola Normale di Pisa part of the ETT Group, which simulates the historic Apollo 11 moon landing.
Moon Landing game: The user is faced with the same difficulties as Neil Armstrong, dosing the LM's fuel to land gently, in an immersive and interactive experience that combines graphic detail with absolute scientific realism.
Being an Astronaut: We relive the training of the two astronauts Thomas Pesquet and Peggy Whitson, between exercises on Earth and extravehicular activities in Open Space.
Are you ready to land on our satellite? Register here.

8:30 p.m., you can move to the nearby Planetarium (5-minute walk from MEET) to continue the space journey with the show. IT'S THE MOON, BABY! To learn more about the event at the Planetarium and purchase your ticket,  follow the link.


​