Post
At the discovery of Fashion-Tech with Anouk Wipprecht
Anouk Wipprecht will open the Meet the Media Guru 2017 autumn programme. A Dutch engineer, designer and artists, she is among the major world experts on Fashion-Techand will be in Milan on21 September (7.30 pm).
Celebrated in her Country with a personal exhibitionRobotic Coutureset up at Tetem, in Enschede until 3 November, Wipprecht designs micro-controlled clothes using interaction design, machine learning and robotics and fashions them using most advanced 3D printing techniques. «What I do lies at the intersection between fashion and engineering science. My job is about hybridising these disciplines and get the most of both to explore new solutions explains Anouk in this video, in which she tells about the objects that animate her research.
In Wipprecht's creations – currently 37 pieces – wearable technologies cease to be mere detectors of an existing status (body temperature, blood pressure, etc.) and become protagonists of an active relation between body, apparel and technologies. Clothes are "case studies on how technology can foster a physical and psychological relation with what we wear" summarises the designer.
"Anouk's work processes new interaction systems between people and the world starting from what we wear. Anouk's research is also a clear case of New Craft: hers is new craft know-how in that it combines technology innovation, painstaking care for the creative process and tension towards continuous improvement – explainsMaria Grazia Mattei,director of Meet the Media Guru – who adds: "We are glad to host a Dutch speaker in keeping with the Dutch Focus that we have working on since 2015, in bundle with the Consulate and Embassy of the Kingdom of Holland".
The lecture will be held at Salone d'Onore, Triennale di Milano, to open the collaboration between MtMG and Innovation and Craft Society, the observatory on high tech manufacturing founded by BancaIFIS in collaboration withStefano Micelli and Triennale di Milano. The meeting with Wipprecht, to be held while the Milan Fashion Week is in full swing, will try to answer the question: "What is creativity at the time of craftsmanship 4.0?". The talk is one of two events and a series of happenings focused on the effects of Digital Transformation on "craft"-type creation and production processes.
In the picture below, the Spider Dress, fitted with sensors and moving arms keeping off undesired people.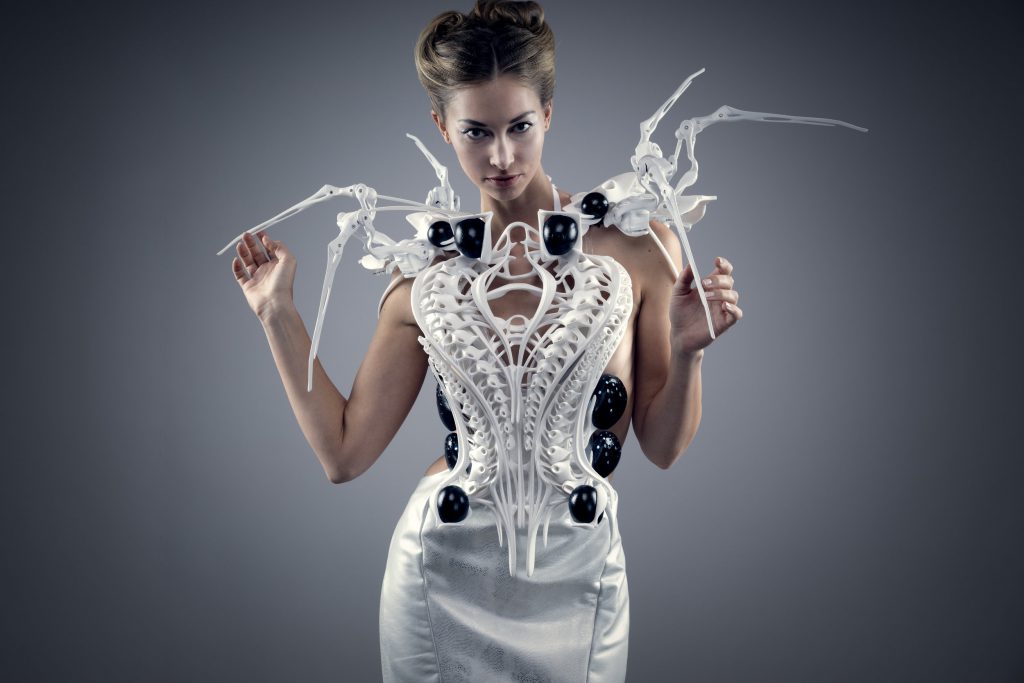 ​