Post
Lawrence Lessig 27/03/2009
Professore di legge alla Stanford Law School e fondatore dello Stanford Center for Internet and Society, Lawrence Lessig è considerato uno dei maggiori esperti al mondo in tema di regolamentazione della rete e delle leggi sul copyright.
Compagno di università di Obama, ne ha appoggiato attivamente la candidatura, è stato coinvolto nell'elaborazione della piattaforma del neoeletto presidente in tema di teconologie e internet ed è candidato alla poltrona della Commisione Federale sulle Telecomunicazioni.
Figura di grande reputazione accademica è anche uomo di forte impegno civile e di concreta progettualità. È stato fondatore e amministratore delegato di Creative Commons e nel 2007 ha lanciato Change-Congress, iniziativa che intende promuovere la partecipazione attiva dei cittadini alla politica. Sfruttando le grandi potenzialità del web, Change-Congress si ripromette di creare una rete capillare che possa determinare l'agenda politica e monitorare l'attività dei candidati.
A partire dall'estate del 2009, tornerà ad insegnare legge alla Harward law School dove ricoprirà anche il ruolo di direttore del Safran Center for Ethics. In questa veste Lessig avvierà un progetto di ricerca, strutturato su cinque anni, che coinvolgerà esperti di molteplici discipline sul tema dell'etica della politica e della trasparenza delle istituzioni.
È fondatore e amministratore delegato di Creative Commons, nonché membro del consiglio direttivo di MAPLight, Free Press, Brave New Film Foundation, Change Congress, The American Academy, Berlin, Freedom House, iCommons.org. Ha fatto parte del board di Free Software Foundation, Electronic Frontier Foundation, Public Library of Science, Public Knowledge.
Scientific American ha incluso Lessig tra i "Top 50 Visionaries" per il suo impegno nel promuovere un'interpretazione del copyright che – pur salvaguardando la proprietà intellettuale – non vada a detrimento dello sviluppo dell'innovazione e del dibattito online.
Lessig è autore di Remix (2008), Code v2 (2007), Free Culture (2004), The Future of Ideas (2001) e Code and Other Laws of Cyberspace (1999).
Laureatosi in economia, Lessig ha successivamente ottenuto il master in filosofia a Cambridge e il JD a Yale (l'equivalente del Phd in legge).
INGRESSO LIBERO FINO AD ESAURIMENTO POSTI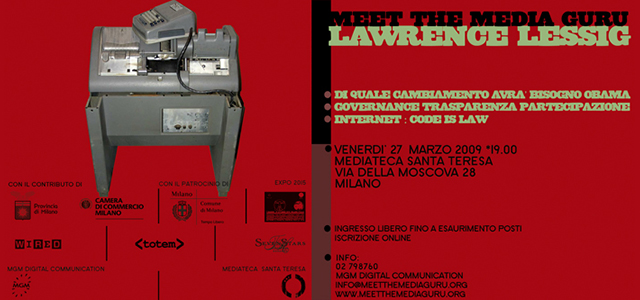 ​