Post
Internet for peace: un Nobel per ciascuno di noi
Dal 20 novembre, il nostro media partner Wired lancia la candidatura di Internet al premio Nobel per la Pace.
Meet the Media Guru – dopo l'adesione al progetto Peace.Dot di BJ Fogg e della Stanford University – non poteva che sostenere l'idea di candidare al prestigioso premio Internet in quanto strumento di pace in che accoglie quegli innumerevoli semi di non violenza che tutti noi siamo o possiamo essere.
Firmate per candidare la Rete e diventate parte di un movimento per conferire il Nobel per la pace a… ciascuno di noi!
Sign up for the Internet for Peace and become part of the movement to nominate the Net for the Nobel Prize. A prize for each one of us!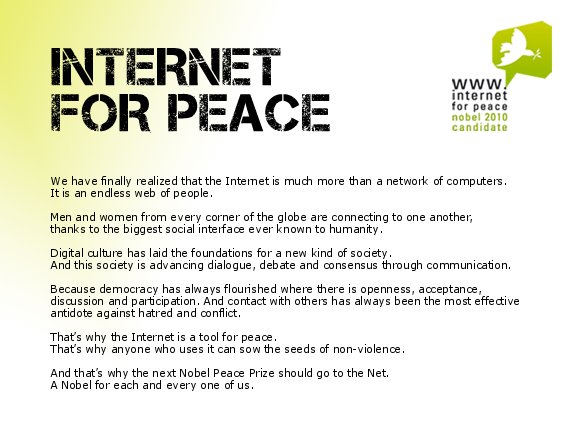 ​