Evento
Paul Daugherty | Meet the Media Guru
La lecture di Paul Daugherty, Chief Technology & Innovation Officer di Accenture e co-autore del libro Human + Machine. Reimagining Work in the Age of AI.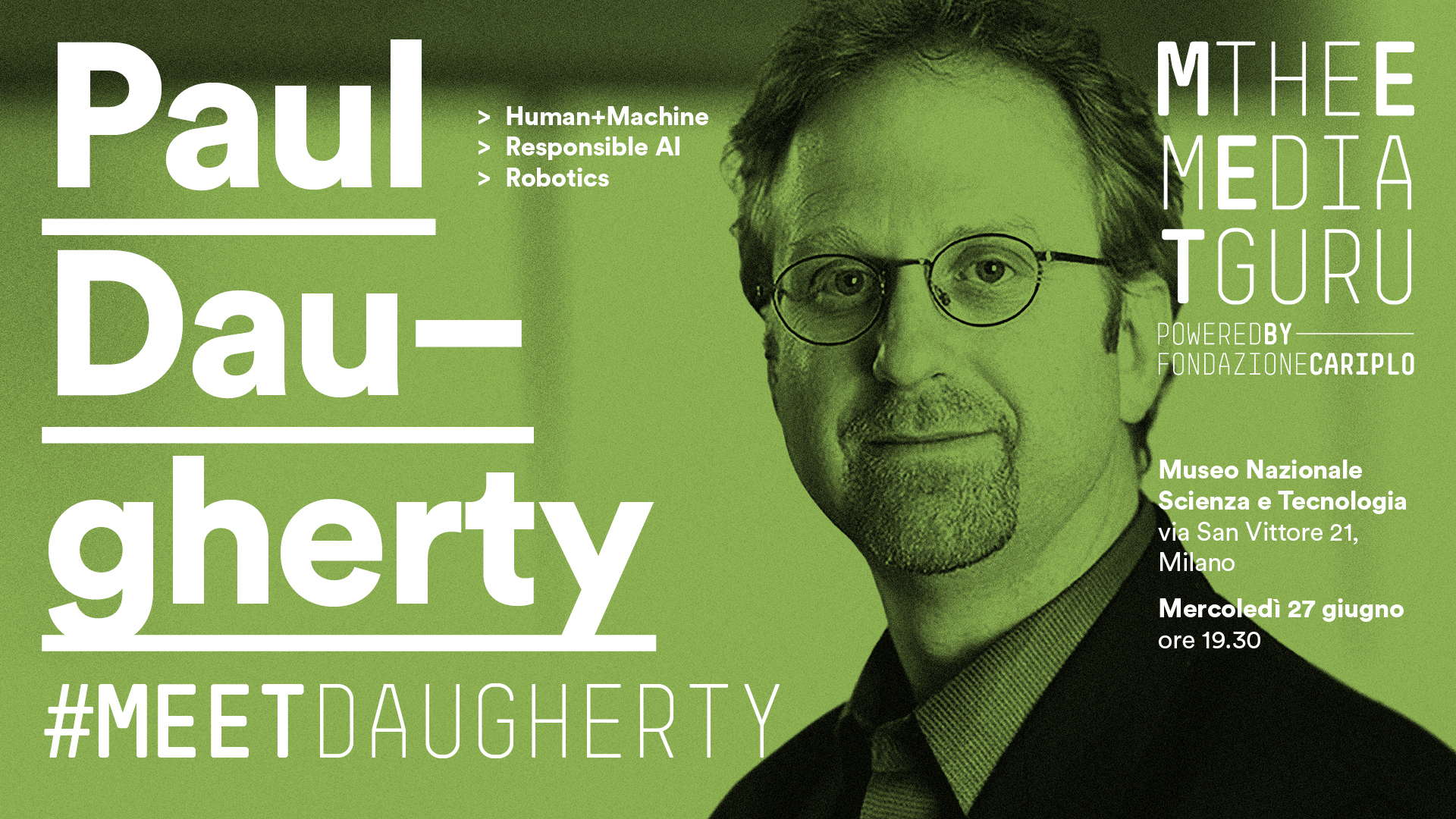 Come raggiungerci:
Se non puoi essere con noi, connettiti on line:
Il Social Cast è l'attività di Meet the Media Guru che coinvolge enti, persone e realtà, in Italia e all'estero, per creare un network che interviene e reagisce attivamente negli eventi.
Le persone collegate in rete possono proporre domande, inviare contributi, commentare e esporre le loro riflessioni in merito alla serata; contemporaneamente le persone in sala sono immerse nei contenuti che dalla rete verranno proiettati nell'ambiente. Una perfetta sinergia tra reale e virtuale!
Ovunque tu sia, partecipa virtualmente agli eventi di Meet the Media Guru.
1. Connettiti
—> prima dell'evento, segnalaci da dove ti collegherai con Twitter (invia un tweet a @mmguru con #meetDaugherty) o Facebook (tramite messaggio privato). In questo modo entrerai a far parte della Social Map, la mappa che geocalizza la tua presenza.
2. Guarda
—> segui la diretta streaming sulla pagina Facebook Meet the Media Guru o sul nostro sito
3. Partecipa
—> commenta e condividi la diretta utilizzando #meetDaugherty. "Aggiungi il tuo posto in sala" inviandoci una foto dalla tua postazione; le immagini, i post e i tweet verranno proiettati in sala e le domande più interessanti saranno proposte durante il Question Time.
​