Post
Bookmark! Small Data, Open Data
#SmallData
Ormai in tanti parlano dei Big Data come della "next big thing". Basti il titolo di un recente saggio sul tema, che è appunto: "Big Data: A Revolution That Will Transform How We Live, Work, and Think". Ma secondo alcuni osservatori, la vera rivoluzione dei dati potrebbe essere molto più piccola di quanto ci aspettiamo. Lo sottolinea bene questo articolo di Quartz che raccoglie alcune posizioni critiche sul tema dei Big Data, tra cui quella di Rufus Pollock, fondatore dell'Open Knowlewdge Foundation, secondo cui:
For many problems and questions, small data in itself is enough. The data on my household energy use, the times of local buses, government spending – these are all small data. Everything processed in Excel is small data. When Hans Rosling shows us how to understand our world through population change or literacy he's doing it with small data.

Tra l'altro, come Pollock ha spiegato sul Guardian, gli small data sono anche più vicini all'idea di Internet in cui la decentralizzazione, la collaborazione sono più importanti della centralizzazione e del controllo.
This next decade belongs to distributed models not centralized ones, to collaboration not control, and to small data not big data.
#OpenData
E a proposito di controllo dei dati, il New York Times torna a porre una domanda fondamentale per il futuro delle libertà digitali:
If My Data Is an Open Book, Why Can't I Read It?
E, cioè: perché le grandi compagnie possono accumulare montagne di dati sul nostro conto, trattarle come meglio credono e, magari, anche rivenderle, e noi che produciamo questi dati non possiamo averne mai accesso? Succede su Facebook, ma anche con la nostra compagnie telefonica, elettrica, chiunque sta appunto aggrega informazioni sui propri clienti.  Dice Latanya Sweeney, direttrice del Data Privacy Lab dell'Università di Harvard:
The fact that I am producing data and companies are collecting it to monetize it, if I can't get a copy myself, I do consider it unfair
Non sempre le grandi corporation si comportano così. Anzi, alcune compagnie stanno iniziando a comprendere come offrire la "trasparenza di default" ai propri clienti possa essere vantaggiosi per entrambi. E' il caso, ad esempio, di San Diego Gas and Electric, compagnia elettrica californiana, che permette ai propri clienti di visualizzare, scaricare e manipolare tutti i dati sui propri consumi. Spesso, poi, vengono anche lanciate iniziative per cui si guadagnano punti se si consuma di meno nelle ore di punta. Insomma, un gioco win-win sia per i Big che per i Small Data.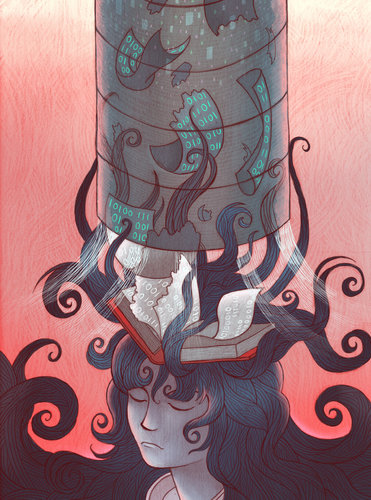 In questo post tutto da leggere, Doc Searls spiega quante cose utili ciascuno di noi può fare con i dati, se solo questi venissero messi a disposizione più spesso dalle grandi compagnie.
#Nostalgia
Facebook che sborsa un miliardo di dollari per Instagram. Yahoo che ne sborsa altrettanti per Tumblr…
L'editorialista dell'Observer John Naughton parte da queste due acquisizioni per riflettere sul gusto per la "nostalgia analogica", che è una caratteristica centrale di entrambe le piattaforme.
So just as painters abandoned realism once photography arrived, Instagrammers, Hipstamaticians et al now seek ways of creatively degrading their imagery so that it looks different, arty or just plain cool.
#Fotografia
Dei Google Glass abbiamo già parlato in precedenza di Bookmark! (così come dei Baidu Eye). Questa settimana vogliamo comunque segnalarvi un video ironico che riflette bene su come questi occhiali potranno cambiare il modo in cui scattiamo fotografie. Fin da quando è nata la fotografia, abbiamo sempre utilizzato apparecchi esterni, in cui le mani erano impegnate. Ora, invece, basta un battito delle palpebre (E non sempre è un bene)
​