Post
NICE TO MEET YOU | Finissage at Malpensa
The finissage of the digital art exhibition "NICE TO MEET YOU" a project of SEA in which MEET collaborates to bring digital art to the airport was held on Friday, November 25.
"NICE TO MEET YOU" was intended as a tribute to the city of Milan, a welcome to arriving passengers and a greeting to departing ones thanks to a review that invites people to "meet" a new Milan. A tale made of images, animations and sounds that surprised, amazed and involved those who passed by Porta di Milano, the famous exhibition space at Malpensa, where the ledwall of more than 12 meters displayed the art of Carlo Stanga, Chiara Luzzana, Streamcolors and fuse*: on a quarterly basis they took turns with their works at Porta di Milano, but tomorrow we see them all together at the finissage.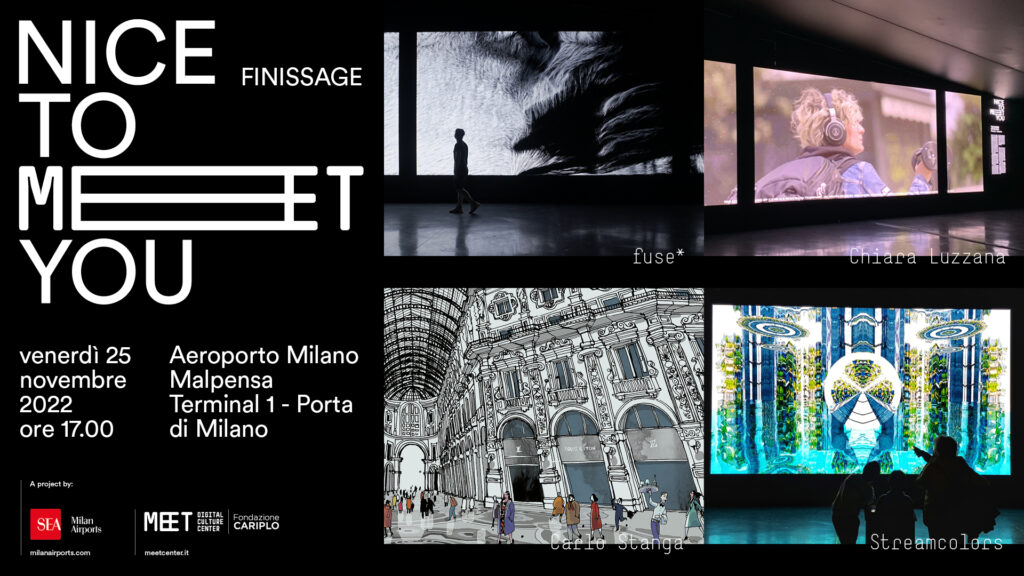 The program of "NICE TO MEET YOU"
Stream Machine Milan – Streamcolors
Interactive installation with emotional images from 1744 to the present day of Milan's symbolic places and themes: the Duomo, Galleria Vittorio Emanuele, La Scala, the Navigli, the Castello Sforzesco, transportation and the skyline. It is the telling of the city's history that, through pictorial and photographic references, is transformed into works of contemporary digital art. It is a chance to borrow the art of paintings and photographs, both vintage and modern day, to project Milan into an imaginative future with the digital eye of the machine and the aesthetic taste of every traveler.
Latentscape – fuse*
This is an audiovisual installation inspired by the concept of latent image in photography: an invisible imprint left by light on film that is revealed only after it has been developed. Similarly, the data generated by the inhabitants of the city of Milan and its visitors generate abstract digital landscapes leaving an obtained trace of their analysis and interpretation in real time. The data thus constitute an invisible image of the city, a map of what is not manifest and is revealed in Latentscape.
The Sound of Milan – Chiara Luzzana
The 24 hours of Milan told through acoustic samples that transform into the soundtrack of the city. The artist, an international sound designer, has been traveling the world for years with the project "The sound of the city"®, collecting sounds, noises and voices of every city, to transform them into visionary soundtracks. A solo journey, that of Chiara Luzzana, armed with microphones she loves to build, video equipment, a backpack of over 20 kg and a single mission: to transform the sounds of each city, into the soundtrack of the world.
Popping up Milan – Carlo Stanga
Animated work showing the rich architectural, cultural and human offerings of Milan through a dreamy and imaginative journey. A continuous discovery between outdoor and indoor environments, squares, theaters, offices, subways passing through a decorated underground. Illustration and animation come together in a dreamy and metaphysical narrative. Milan rediscovers itself and releases its bursting energy in a crescendo of sounds and images.
​