Post
#FutureWays: a report on Guru Day 1
At 3.30 pm sharp on Thursday 11, the timer of the Special Edition Future Ways of livinghas ticked. Mediateca Santa Teresa started filling for a day featuring as many as 10 international gurus. They "carried" the weight of outlining the future,a mission for dreamers and realists, as they admitted several times during the talk. The first Guru Day was a success, with a steady flow of visitors, and our hashtag #FutureWays has soon become a trending topic on Twitter not to mention the viewers watching in streaming from all over the world.
As a very excited opened, Maria Grazia Mattei, "mother" of Meet the Media Guru, chose to celebrate the tenth anniversary of her creation with a special edition entirely devoted to the lifestyles of the next 10 years made with the Institute without Boundaries of Toronto, with the support of the official partner Fastweb, as well as other partners Artemide,Fondazione Fiera Milano,Milan Chamber of Commerce,City of Milan,City of Torontoand with the support of the General Consulate of the Netherlands in Milan.
The range of scenarios offered to the audience – and the many who connected from Italy and other Countries to watch the streaming live – focused on technology evolution. As the opener of the talk-time, Luigi Ferrarais Dean of the Institute without Boundaries and an expert of Collaborative Design, a new design model that brings users back at the centre of the creative phase, getting rid of standardisation in favour of individual needs.
Also Carlo Ratti, Director of the M.I.T Senseable City Laboratory, focused his attention on the future of design through technology that can increase the potential for use of urban planning projects and ideas, bringing architecture to a new, unprecedented level.
Another scenario blending design with an industry that is relevant for everyone was outlined by Thomas Sutton, Art Director of Frog and Healthcare Designexpert: in the future healthcare machines will help chronic patients become at once independent and constantly monitored.
A swerve towards the economic side of our future was provided by Patricia de Vries, Coordinator of the MoneyLab Project at the Amsterdam Institute of Network Cultures. According to Patricia, crypto currency can become a viable and widespread option in the next ten years, though one crucial element is needed, the confidence of users in the algorithm meant to regulate virtual currency.
After a focus on the economy, the first Guru Day closed in on personal security and privacy with a talk byFoteini Agrafioti, Chief Innovation Officer of Architect, who has long worked on biometric applied to emotions. Her research focuses on machines that can detect our feelings, therefore anticipating our needs. But to what extent can this "awareness" undermine the confidentiality of very sensitive data such our emotions? It is really for us to say.
His name is Lawrence Lessig, founder of CreativeCommons and the Stanford Center for Internet e Society, and he gave a political flavour to Special Edition.What will democracy be like in 2025? What level of interconnection will there be between entrepreneurs and politicians? How good will the public be in supervising obscure and dangerous liaisons?
After a short break in the Mediateca garden with a multi-ethnic buffet courtesy of Tempio d'Oro, the first day of Special Edition resumed with a lecture byDon Normanwho invited everyone to think about the sense of design in the XXI century, as a tool catering to our needs as conscious users.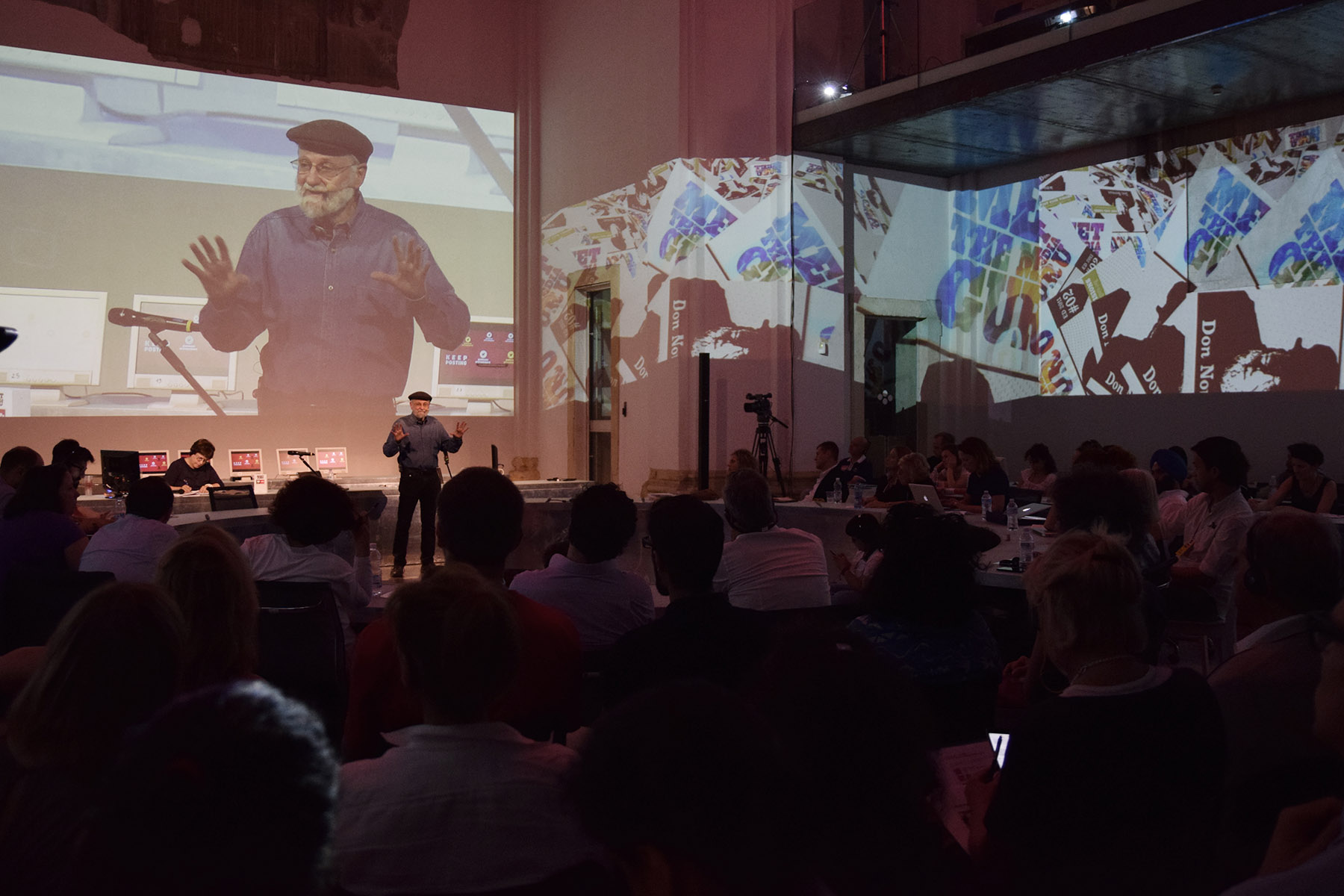 Then we heard from Karan Singh, Professor of Computer Science at the University of Toronto, who presented his hypothesis of future web navigation. Its name? JanusVr, an immersive platform to navigate websites that become rooms to our eye.
Last, but only in order of appearance, to tell about the next ten years was Emanuele Micheli, Vice President of Scuola di Robotica di Genova, and his very entertaining Naorobots, who told why machines are a very powerful learning tool also for young people with disabilities. Final, in his opinion, is the ethical contribution in their use, in than machine and man can interact, implement one another, but their intelligences should never be confused.
After getting our fill of future on the first day, we are ready for the second and last Guru Day. The speakers will be Derrick de Kerckhove, Mark Rolston, Freddy Paul Grunet, Giuliana Bruno, Keiichi Matsuda, Paola Antonelli, Luc Courchesne and Marcus Wendt.
​