Evento
Future Ways of Living | Living in a global village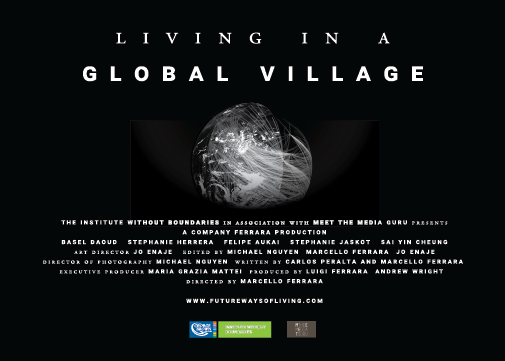 Nell'ambito del Milan International Filmmaker Festival 2018 è prevista la première italiana del documentario Living in a Global Village dedicato al progetto Future Ways of Living | Expo as a global village ideato e realizzato da Meet the Media Guru con George Brown College di Toronto | Institute without Boundaries nel 2016 fra La Triennale e Cascina Triulza.
Il film ripercorre il progetto Future Ways of Living dedicato al re-design dell'area Expo 2015 attraverso interviste agli ospiti internazionali di Meet the Media Guru e al team interdisciplinare che ha partecipato alla Charrette, laboratorio di progettazione partecipata di cui Institute without Boundaries è specialista a livello mondiale. I partecipanti della Charrette hanno progettato le possibili infrastrutture, sistemi e servizi richiesti per "costruire un villaggio globale" utilizzando come piattaforma di sperimentazione il sito di Milano Expo 2015. 
Il lungometraggio, diretto da Marcello Ferrara, è in gara per il miglior montaggio, miglior foto e miglior regista. La sala di proiezione è la numero 3.

​