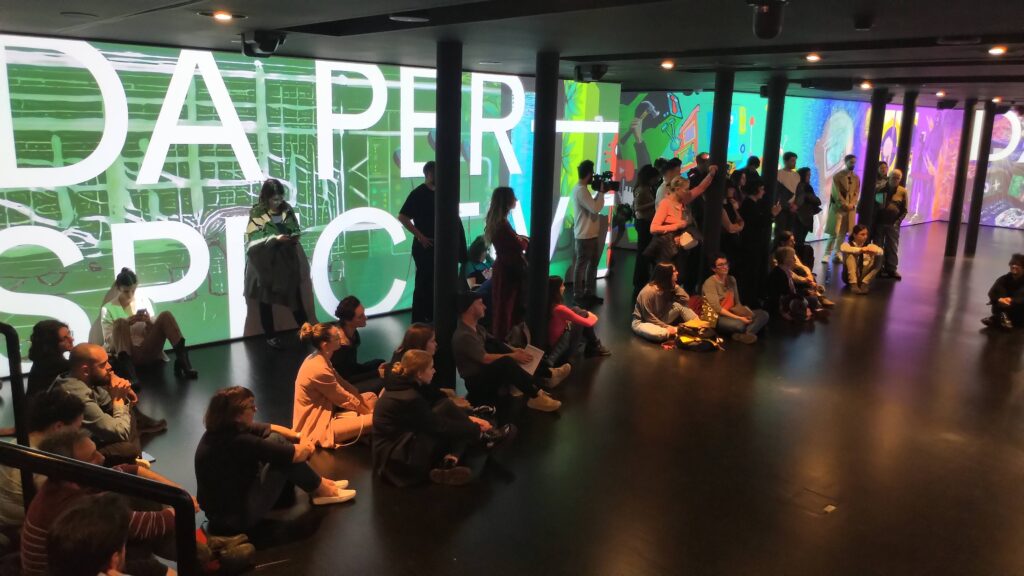 DADA is a collaborative digital art platform and community where artists from all over the world speak to each other through drawings, creating spontaneous "visual conversations".
Alongside DADA – absolute pioneers of the cryptoart movement – we transformed MEET into an immense "disruptive" laboratory and gave life not to a retrospective, but to a PERspective: a panorama of a community of artists that is very much alive and already plotting the future.
Visitors are invited to explore the world of DADA, which is made up of wonders such as collaborative and participatory art, its history, pioneering ideas, and technological innovations in the cryptoart space. DADA was the first to encode royalties for artists into NFT smart contracts, a vector of socioeconomic change for artists. DADA also created the Invisible Economy, which emphasizes the importance of intrinsic values, as well as a governance model and approach to the distribution and use of blockchain which presents an alternative to those imposed by the market.
The exhibition begins with CommonPlace (2022), a physical work that collects the most precious memories of the members of DADA, known as "DADAKIN". It showcases photographs of creative moments, discussions, and encounters, where visitors can project themselves onto the screens and become part of the exhibit. The Living Staircase cascades visual conversations, the beating heart of DADA's art, and leads us to the Creative Studio, a research station for exploring the timeline of the history of NFTs from 2011 to 2019.
In the galleries on the first floor, images and videos contextualize the roots and development of the cryptoart movement through the content of the Historical NFT Festival organized by DADA in Barcelona in October 2022. The exhibit provides a closer look at the ecosystem of what is much more than an artistic collective. The journey ends in the Immersive Room, the soul of DADA, with an experience that allows visitors to fully experience its "grammar" and at the same time, the triumph and distillation of creativity alternating sensations, lights, art, and emotions between the visible and the invisible.
Admission to MEET exhibits and immersive technologies in the VR corner (Friday through Sunday)
Wednesday, Thursday and Friday (without VR corner)
Full – 10 €
Reduced (under 25) – 7 €
Saturday and Sunday (with VR corner)
Full – 12 € and
Reduced (under 25) – 9 € reduced
Children (up to 6 years) – free
Guided tours of the exhibition DADA Perspective.
Visitors to the exhibition can take advantage of this service included in the ticket; the guided tour lasts about 45′.
May 31 
5 p.m. Guided tour ITA
June 03
5 p.m. guided tour ENG
6 p.m. guided tour ITA
June 10
5 p.m. guided tour ITA
14 June
5 p.m. guided tour ENG
6 p.m. guided tour ITA
June 15
5 p.m. guided tour ENG
6 p.m. guided tour ITA
June 17
5 p.m. guided tour ITA
​